End of September I stayed for ten days under the Fruska Gora Mountain in the spa Vrdnik. I wanted so much to see and photograph the Sarplaninci of this area and to know their breeders. My wish was fulfilled thanks to the kindness of Mr Vuk Strunjas, breeder of Sivac. He organized a successful tour. On Sunday, 29th September Mr. Dragan Culibrk, the breeder from Petrovaradin, picked me up. After a magnificent view that I had from Fruska Gora, we arrived at his home and his Sarplaninci. He showed me two adult bitches and one male. I especially liked the beautiful Anda and the beautiful head of Karadjos.
KARADJOS (VUK OD CULIBRKA x MONIKA), br.et own. Dragan CULIBRK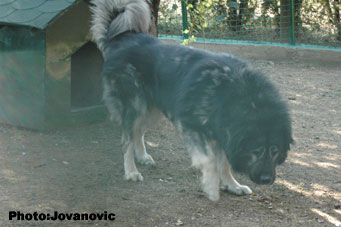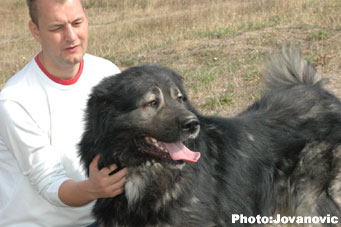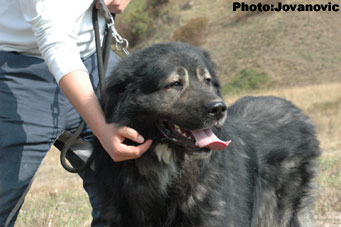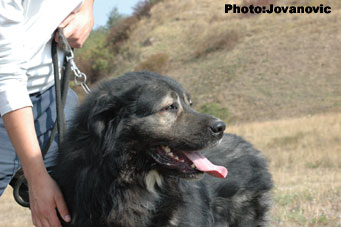 ANDA (VUK OD CULIBRKA x MONIKA OD ASUJICA), br. et own. D. CULIBRK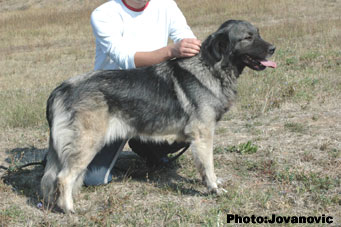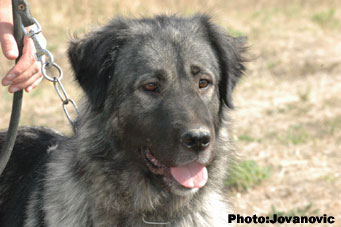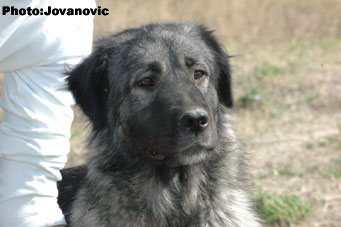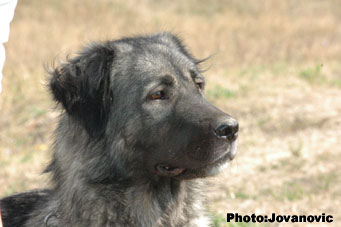 KASANDRA (ALEKS x MECA), br. B. JELOVAC, own. D. CULIBRK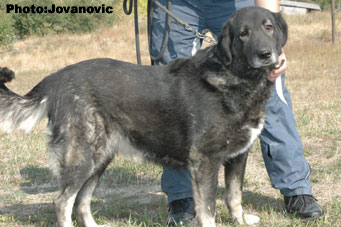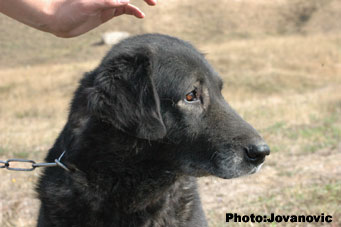 After this stopover, the path led us to the town of Temerin. We stopped in the village of Kac with Mr. Tosic to see Sokol, which I already had the opportunity to judge during the exhibition in Mladenovac. It is a beautiful dog, but he was in the post shedding period and he seemed a bit longer than when I saw him for the first time.
SOKOL (MEDA sa SALASA x ANDA), own. TOSIC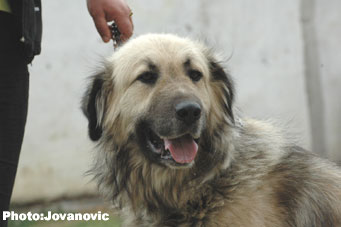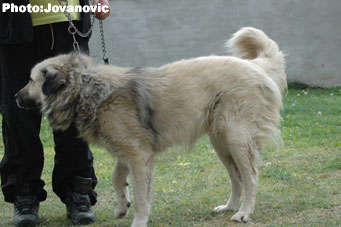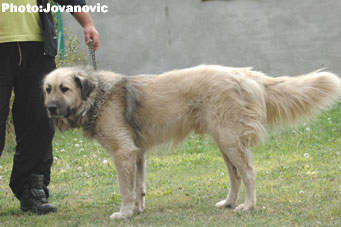 The first visit in Temerin was at the house of Dragan's mother in law and I saw there a bitch who is the sister of Mali Dren and an old male, Meda Jelovcev, with a very beautiful head and very hairy.
MEDA JELOVCEV (MERON x MALENA), br. B. JELOVAC, own. D. CULIBRK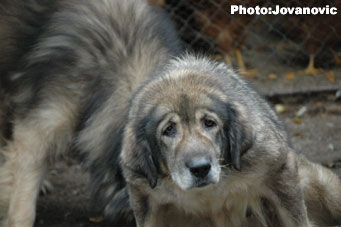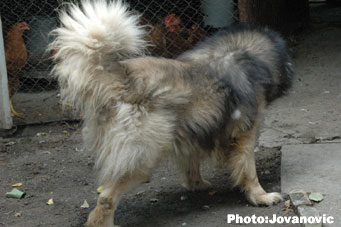 The next dog we visited was Bagzi bred by Dragan at Milan Djukic. He is the son of Meda Jelovcev and from the sister of Anda. I liked this dog very much because of, how he looks and his character.
BAGZI OD CULIBRKA(MEDA JELOVCEV X ANDA), br. D. CULIBRK, own. Milan DJUKIC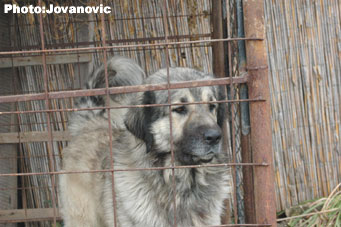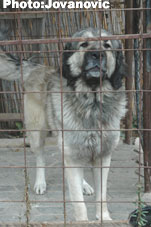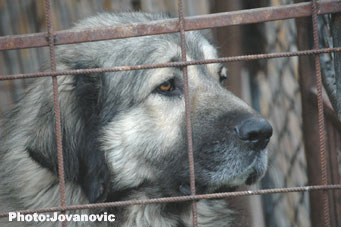 Afterwards, Dragan took me to Mr Rasa Milinovic. Rasa has shown us the following dogs: Baron of Culibrk, Budimir from Mr. Obradovic, Jugoslovenka-Lenka, Aldo and Aska from Rasa. I especially liked those last ones, brother and sister.
BARON OD CULIBRKA (MEDA JELOVCEV x ANDA),br. D. CULIBRK, own. R. MILINOVIC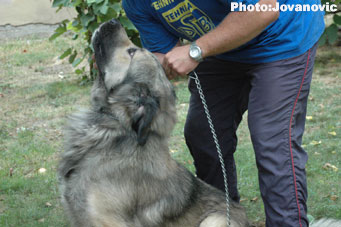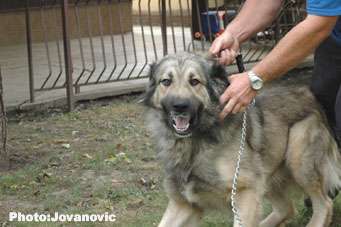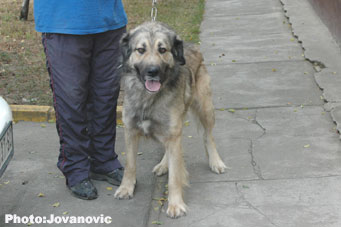 ALDO OD RASE (APIS x AZRA OD CULIBRKA), own. R. MILINOVIC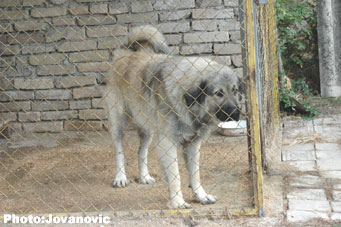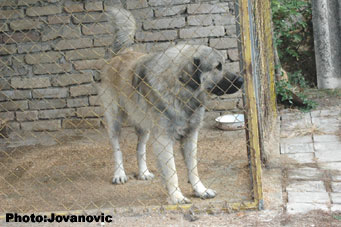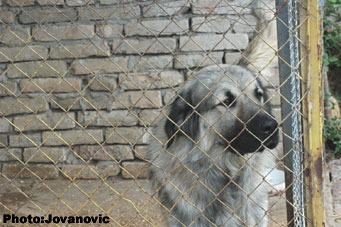 ASKA OD RASE (APIS x AZRA od CULIBRKA), own. R. MILINOVIC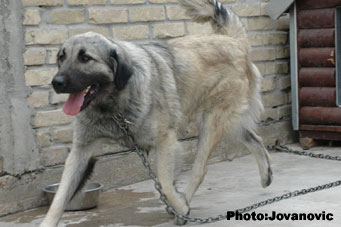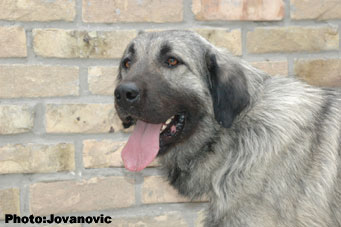 BUDIMIR (LUX od Bjelica x MEDENA od DINICA), br. G. OBRADOVIC, ownp. R. MILINOVIC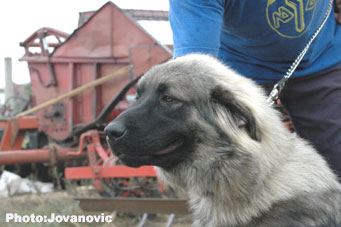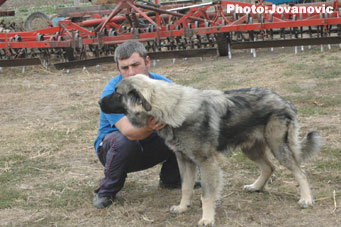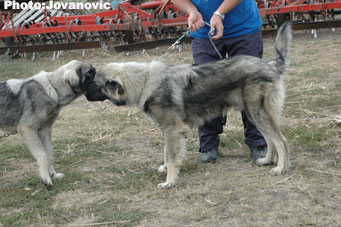 JUGOSLOVENKA-LENKA (ARI-MURKO ZS x MURA), br. D. DZODINAC, own. R. MILINOVIC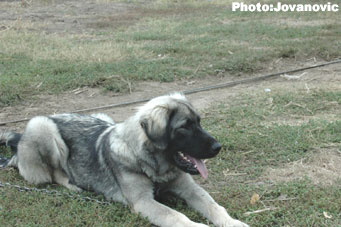 The next guide was Mr. Suki Karimanovic, who had just arrived from the town of Kula and who took me first to his home and after to Sivac.
I was initially hosted by his wife and I met his both sons, then we watched Col-Dzapa and a puppy. Col-Dzapa is a young Sarplaninac, which has already been successful at exhibitions.
COL-DZAPA (MALI DREN x MONA), br. U. JOVANOVIC, own. SUKI KARIMANOVIC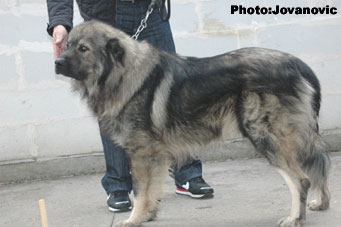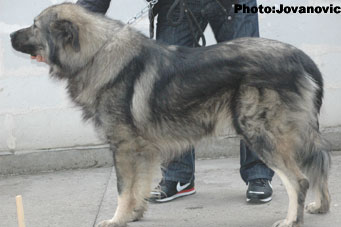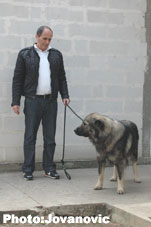 PUPPY HULK (COL-DZAPA x AZRA), él. S. KARIMANOVIC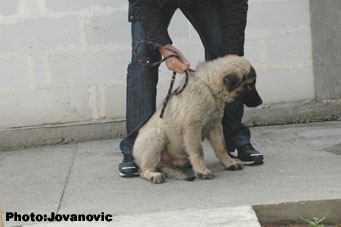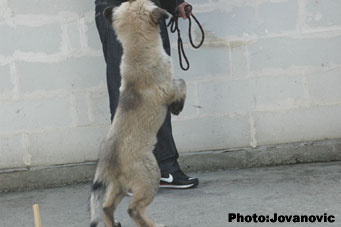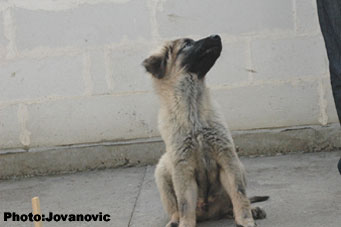 The next visit was to Mr. Zoran Brac where I photographed the female Atina and two puppies of different origin.
ATINA (APIS x AZRA od CULIBRKA),br. R. MILINOVIC, own. Z. BRAC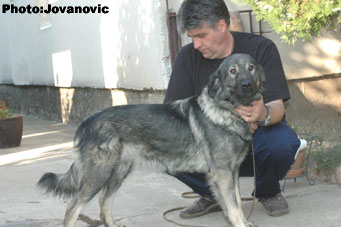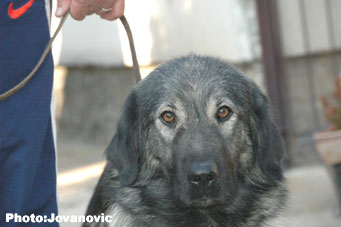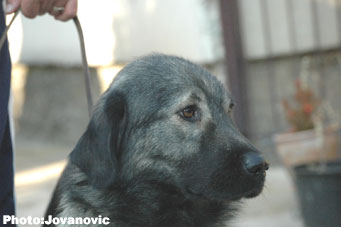 PUPPY1 (ARKAN-PAKO x ?), br. Z. BRAC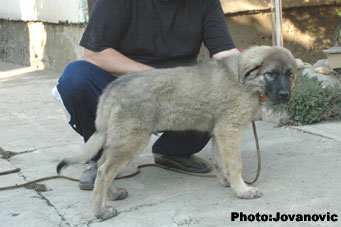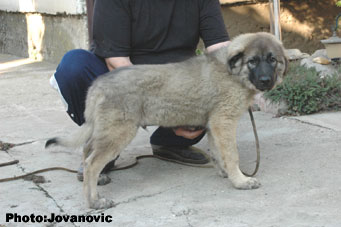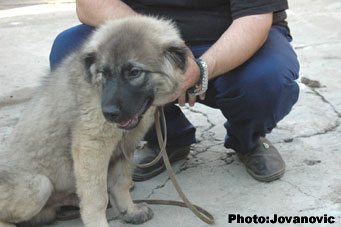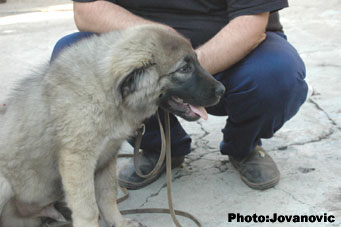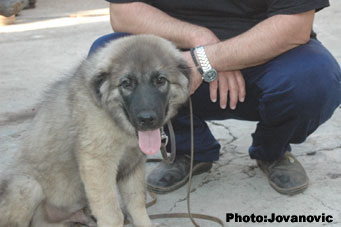 PUPPY2 (?)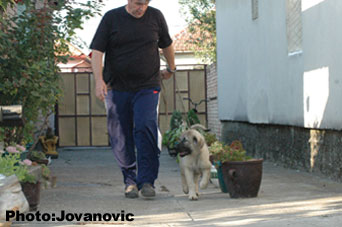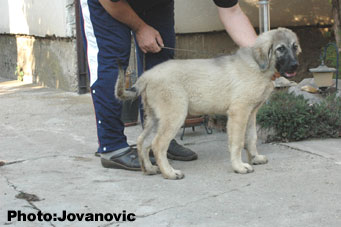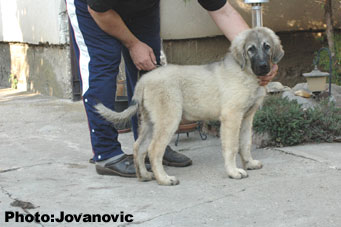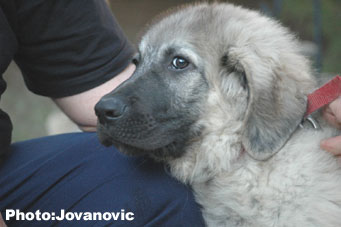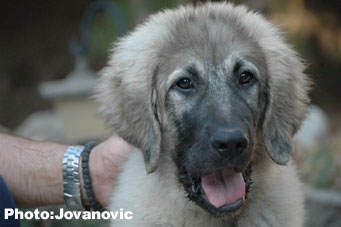 After, we arrived at Mr Vlada Radovic. Tarzan, which I've already seen and which I liked at Mladenovac, seemed to have got old. I could not photograph him successfully, because he was in the lower level garden of Vlada and I watched him from above. But Arkan-Pako and the beautiful Cica-Lea posed for me. Both have beautiful profiles with a perfect stop.
ARKAN-PAKO (APIS x AZRA od CULIBRKA), br. R. MILINOVIC, own. VLADA RADOVIC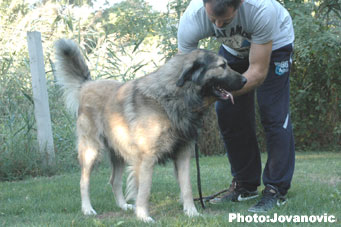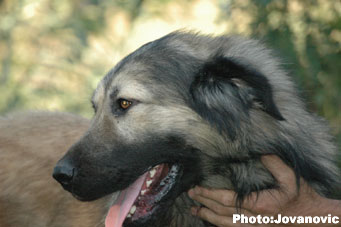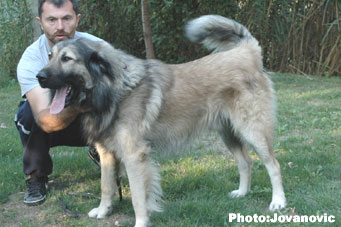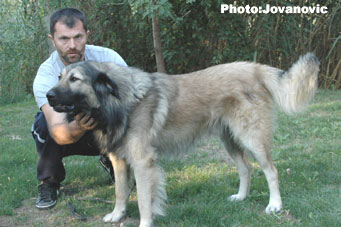 CICA-LEA (MALI DREN x MONA), br. U. JOVANOVIC, own. V. RADOVIC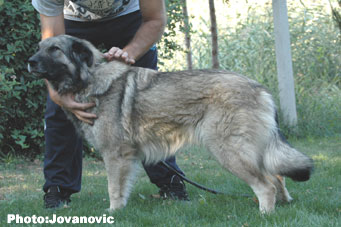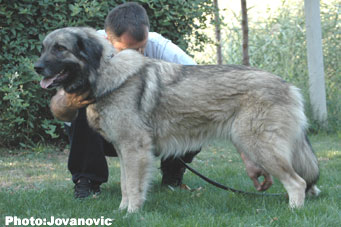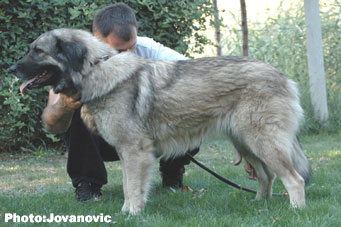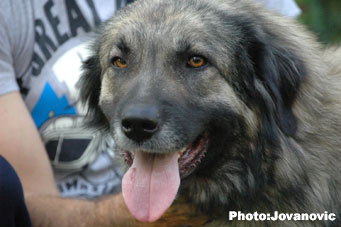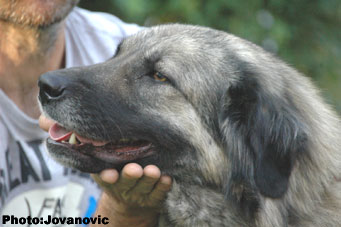 It is only at sunset that Vlada, Suki and I arrived at Mr Vuk Strunjas, who was waiting for us for lunch, but in fact he served us a delicious dinner that he had prepared himself. His bitches and litter, I photographed them with very bad light at reduced brightness: three bitches with big temperament, moving non-stop and a big litter of a dozen puppies of 4 weeks old. The three bitches, mother and two daughters of the same litter had beautiful profiles, a discrete stop, they were well built, but without fur after shedding.
BETA OD CULIBRKA (MEDA JELOVCEV x ANDA), br. D. CULIBRK, own. Vuk STRUNJAS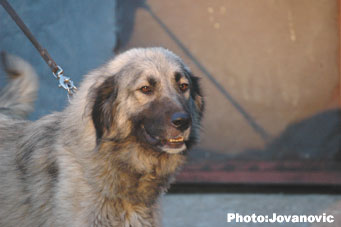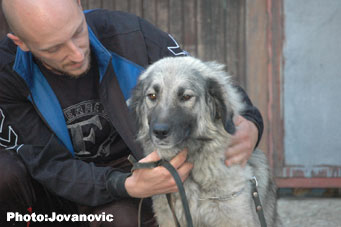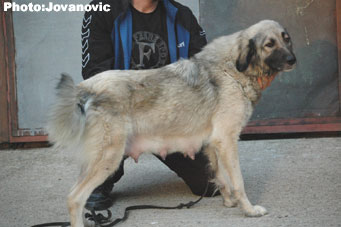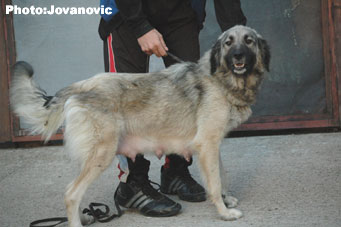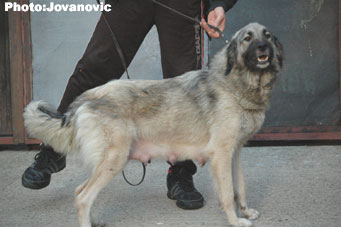 ARKA-SARKA (AGA od ZOLTIJA x BETA), br. et own. V. STRUNJAS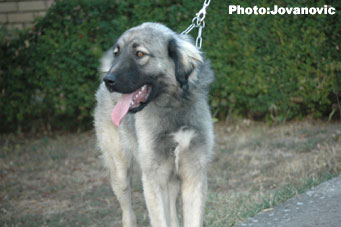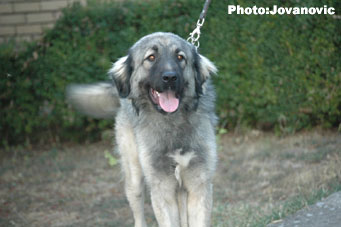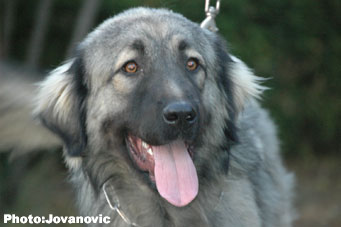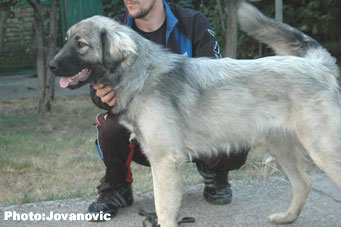 ARA-MARA (AGA od ZOLTIJA x BETA), br. et own. V. STRUNJAS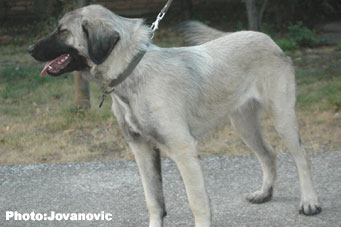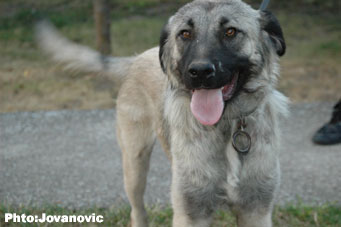 LITTER AGA OD ZOLTIJA x BETA OD CULIBRKA, br. Vuk STRUNJAS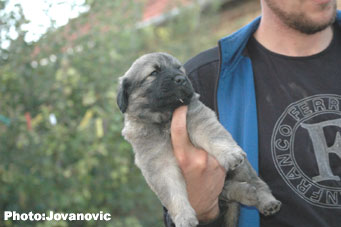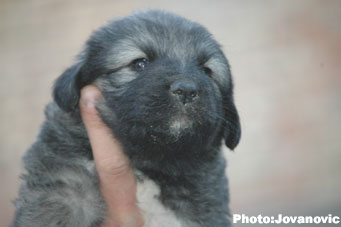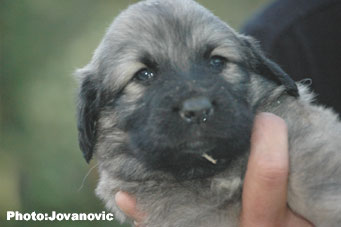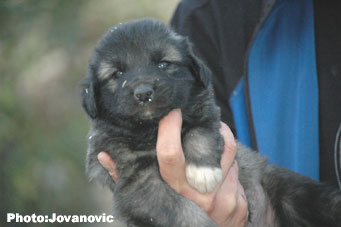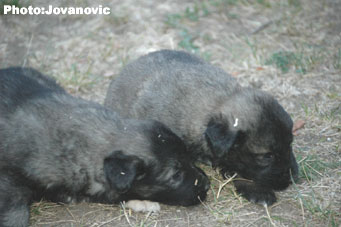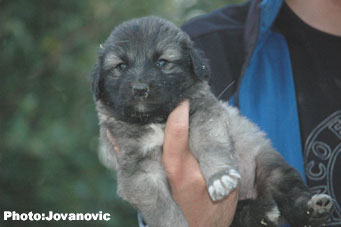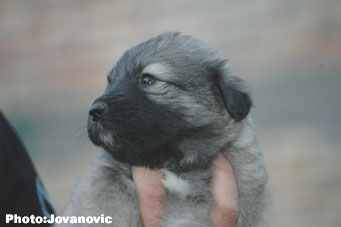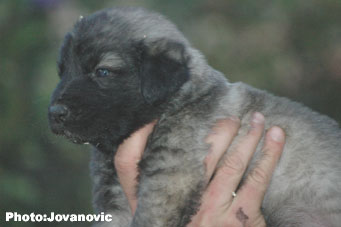 By total darkness, Vuk put me in the car to take me to Vrdnik. Along the way we stopped to share this photo because we completely forgot to keep a souvenir of the friendship and also to make another visit to Mr. Goran Obradovic. He showed me his two young bitches whose identity I forgot. Mr. Obradovic was already known to me from a trip to Nis, several years ago, when I drove Veca to the special exhibition of Nis.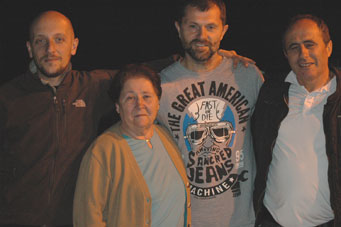 FEMALE1 (SAPA DINICEV x HURA BABICEVA), own. G. OBRADOVIC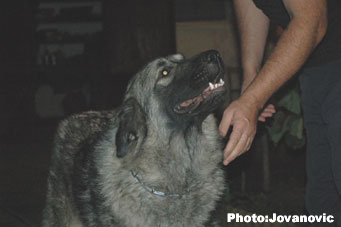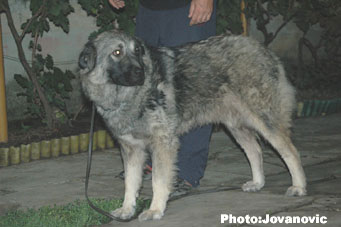 FEMALE2 (??)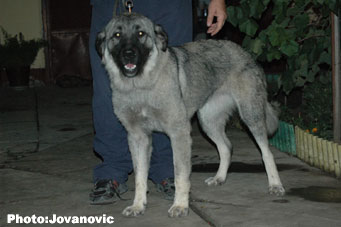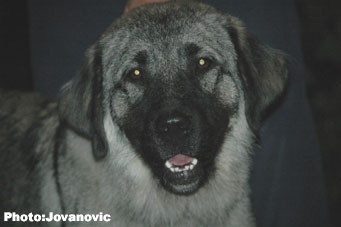 I was very happy with this tour and I keep a lot of memories of the friendship with those super cute guys who share the same passion as me. Most of these guys are focused in their breeding on the dogs originated from the mountain, the character is top priority and they are trying to breed dogs according to the standard as it was written. I would also like to emphasize that it is very rare to find breeders who maintain very friendly relations and collaborate so well, without any jealousy we meet so often among breeders. A big thank to all of you once again!