Our visit of the kennels continued by the one of Mr Milos Miletic. His house is located in the countryside, on a hill, in a very beautiful area. The house and the plot are very well arranged, everything looks very clean on this sunny day.
In the garden we are joyfully welcomed by a young male, he was probably about 7-8 months, a young Karabach named Astor. Astor is rather tall and robust, from a correct construction. What is wrong are that the lower eyelids are drooping, especially the right eye. He was tied to a tree by a long chain and he was always in motion which did not allow me to take proper pictures.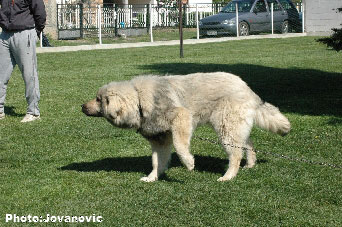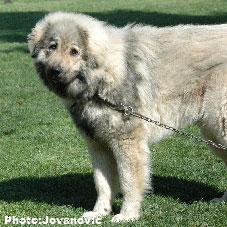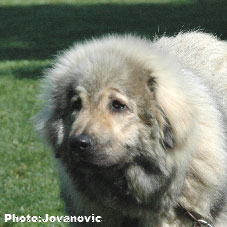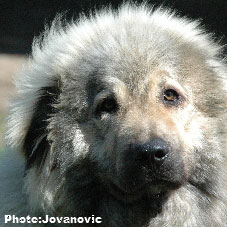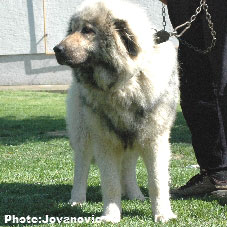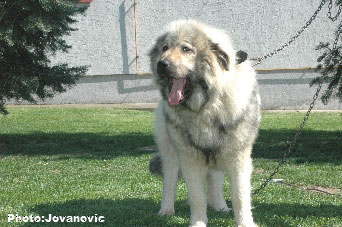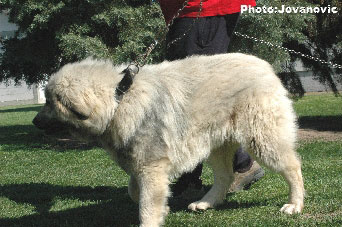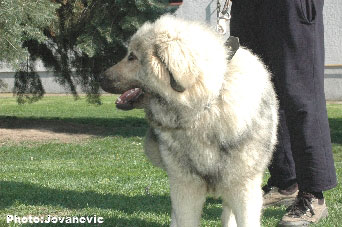 After Astor, the owner showed us his mother, Marina-Bela, who had just one litter. This female of very light colour was also all the time moving, nervously, perhaps because she was away from her puppies. On the facial part of her head I would remark deep pits below the orbits and also the angulations of the hindquarters are too open. At the end the hosts allowed us to "have a look" on the cute puppies.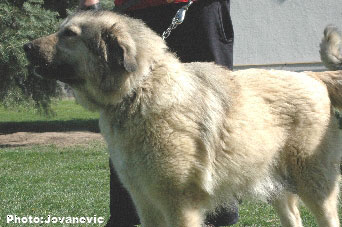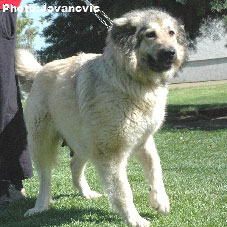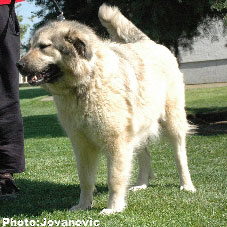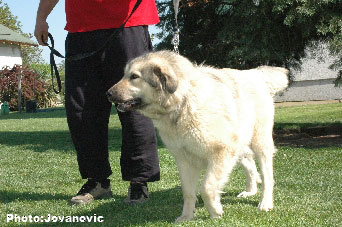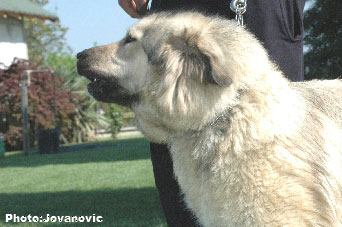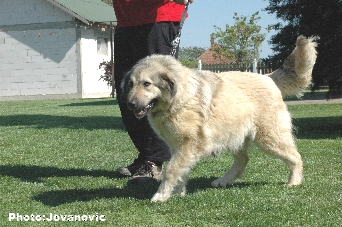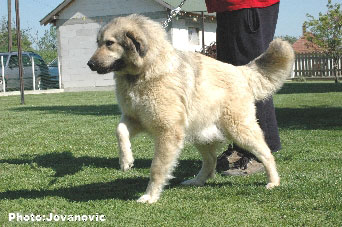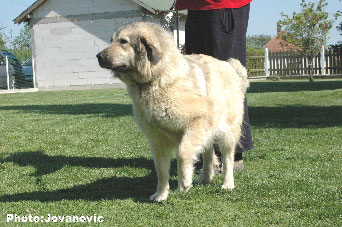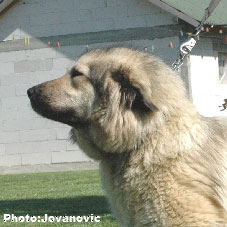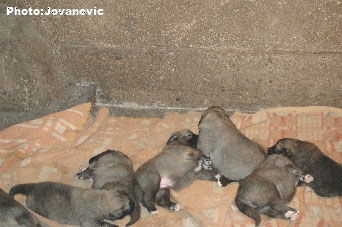 Here is a pedigree that illustrates the origin of the dogs we have seen at Marko, Mrki and Milos.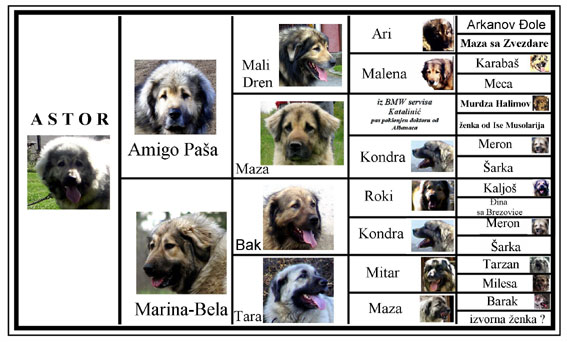 Next, we went to the place where Bojan keeps his two female dogs.
I must say that both are beautiful and both made me very enthusiastic and I will remember them in the best memory.
First, he presented the bitch Bona, who came from Zlatan. Her story is sad, but this bitch has such a charisma, if I can put it like that, that despite her disability, she doesn't provoke sympathy but admiration. Bona had the misfortune to put her right front leg during a dispute with her neighbour across the fence and the neighbour was so aggressive that Bona remained without her leg, starting from the middle of the lower part of the leg.
But Bona is so agile, so strong on three "legs" that this lack is hardly noticeable. Between Bojan and her is such a touching complicity. I had the impression she looks at him as if he was God. Apart from a perfect character she has a great beauty and harmonious anatomy.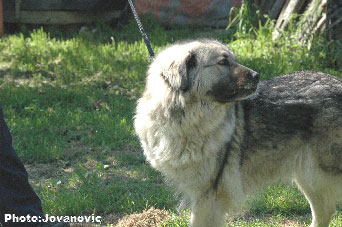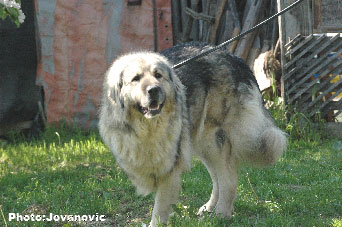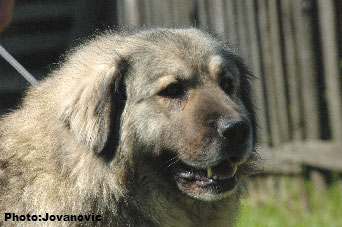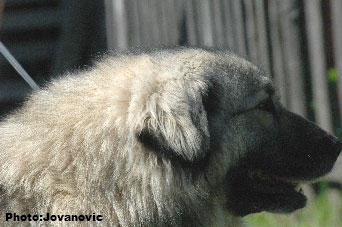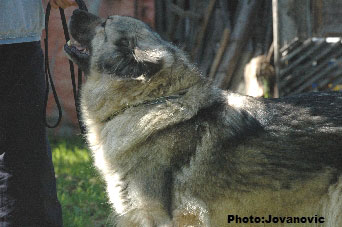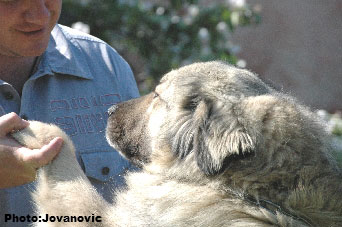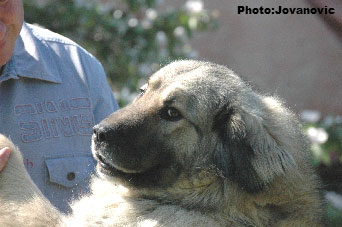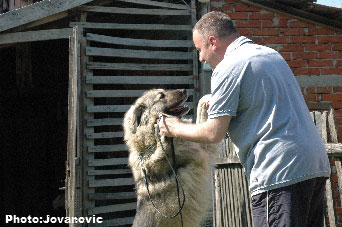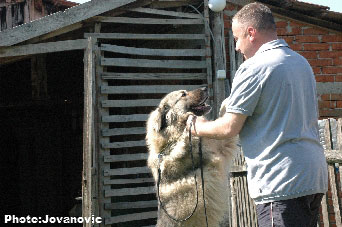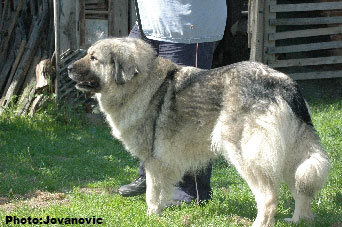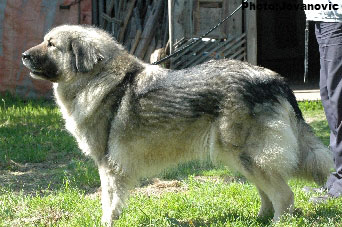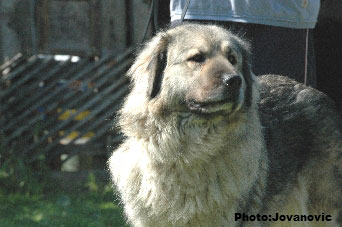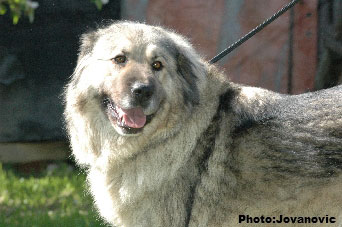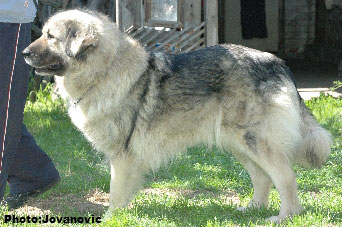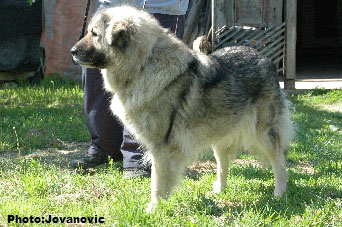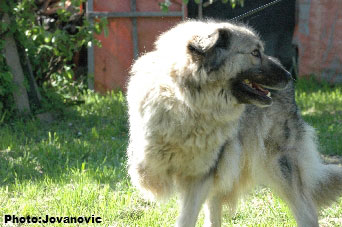 After that Bona, Bojan showed us another Bona, Bona Zlatni Stit who is jointly owned with Mr. Ognjen Andonovski from Macedonia. She is the daughter of Kiko od Bjelice and Mona (from Dinic). Bona is since short with Bojan, we noted that she is still a bit reserved.
This bitch is also a real beauty, and even I would say she is more feminine than the Bona we first saw. Her head is in any case more beautiful. This bitch had great success in recent competitions, which were mainly special ones from the breed.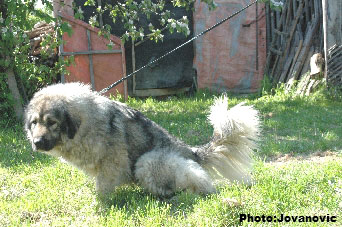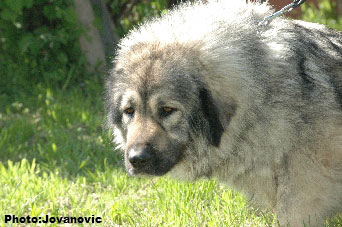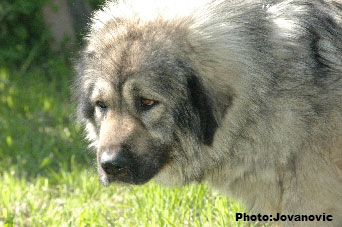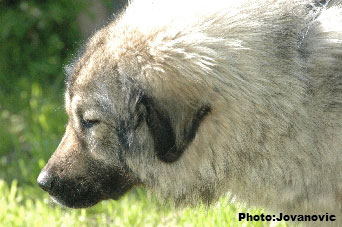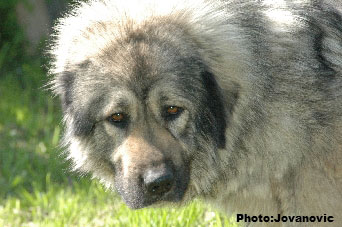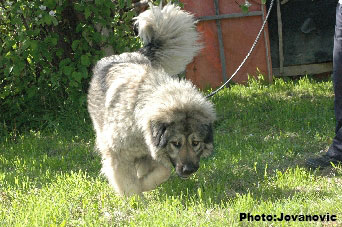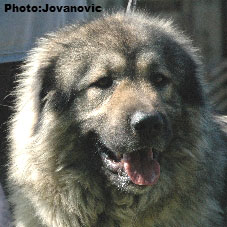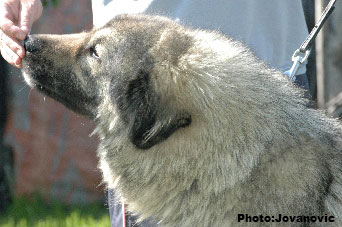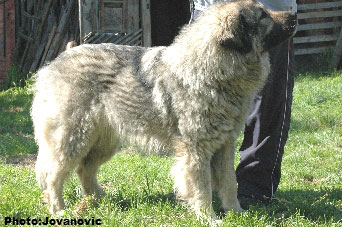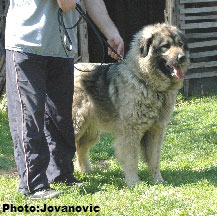 Then followed a joint lunch and we were welcomed by Milija in his restaurant with an excellent grill. Everything has been accompanied by recent impressions of the dogs we had seen and stories about the Sarplaninci. But about what else could we, lovers of the breed, talk!
And at the end of that day, which will remain in my memory, those young people led us to another place, where there was a brindle male dog, originating from the mountain, specially brought for organized combat, since the interest of its owner was unfortunately limited to this activity.
The dog, just like the other ones I watched sometimes on the videos, although I refuse to see this was very nice, without any aggressiveness. His characteristics were that he had muscles like "sculptured", pay attention to his legs! He was a little overbuilt and he had quite open angulations at the hindquarters, his head was totally according to the standard.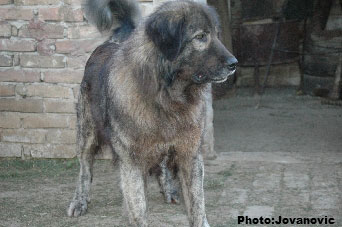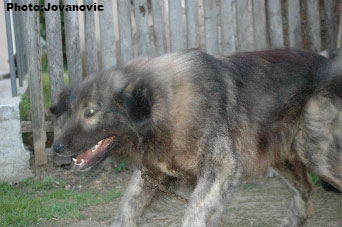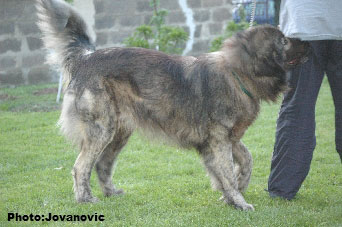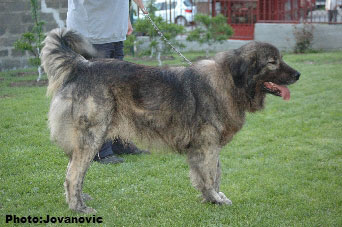 Here was also at first sight quite solid female.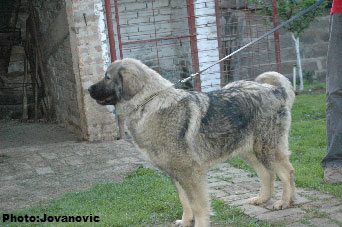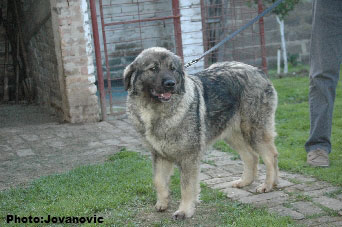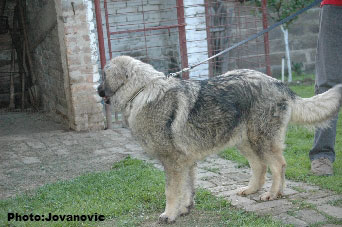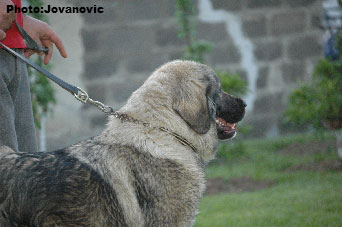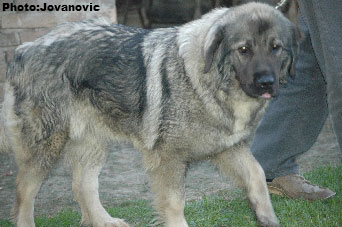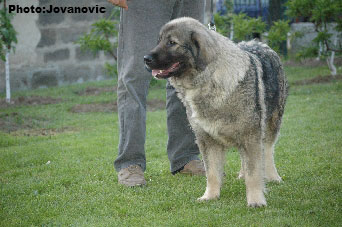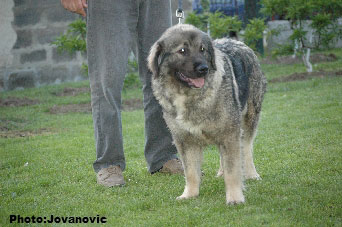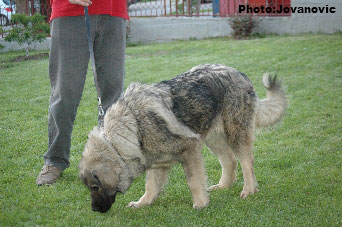 Before the conclusion that follows, I must say that never and nowhere else, from the times I visited our breeders, I saw so clean kennels as in Mladenovac, without faeces in the box, without any unpleasant odour. I have to make the association that almost everywhere before I thought I would find myself next to the lion cage in the zoo.
This visit will live long in pleasant memory I will especially remember the beautiful females I had the opportunity to see at those young breeders: Kaja, her sister and young Juca, and Vidra at Slavisa and Cica Bela at Milija and especially, as icing on the cake both Bona's. Is the name "Bona" predestined to be worn by such beautiful and noble bitches? I say this thinking also at Bona from Srdjan, who not only won by her beauty and character, but who has left a deep imprint in the past decade. She is also the grandmother of Bona Zlatni Stit, the mother of Sapi at Srdjan and many other dogs of value. It is entirely justified to expect puppies of great value from these bitches, especially if they are found matching quality studs. For the males a little more work is required, their quality is significantly lower than the one of the bitches.
Very late at night Nina put us on the bus to Belgrade. In my camera were more than 500 pictures that I view again these days and I now shared with visitors on my site.