After having raised two litters born in December 1999, participated with Veca in exhibits in Dortmund, Goes (Holland), Brussels, Saarbrucken, Paris, world exhibit in Milan, exhibits in Liege, Luxemburg, New Bergen (Holland), and Tulnn (Austria), and having organized a meeting of "Serbian Mountains" in August 2000, there came the 5th of October, collapse of Milosevic and communism in Serbia; at least that's what we anticipated. With tears of happiness we watched on the television the events that took place that day. Enveloped in a wave of hope and enthusiasm, we expected arrival of new times and better days for Serbia. We could no longer sit still and thus decided to visit Belgrade. We took with us Veca, in hope to show her at a few exhibits in Serbia. My plan was to attempt to have at least one dog from my litters win the championship in my maternal country.
On the 15th of October Veca took part in CACIB show in Novi Sad. The judge was a veterinary doctor Slobodan Teodosic, who acted as director of the army dog kennel for a number of years. His attitude was very "partisan", not to say impolite. He rejected two dogs due the problems with their teeth. Veca found herself competing with four adult bitches and Kaca od Drndraskog among the champions. The judge did not approach the dogs, and he dictated that Veca's chest was not sufficiently low. I invited him to check this out, and since he did not make an effort to do so, I showed him with the motion of my hand the extent of her sternum. Veca won the third place and got an excellent grade. This was truly a miss.
Next came the exhibit in Nis, the second special event for Sarplaninac known as Kalca kup, 21.10, at which the judge for the bitches was Andras Polgar (from Czechoslovakia) and for males Novak Radulovic. The competition was quite strong. Registered were 82 Sarplaninac, however, naturally some were absent. In the class of adult bitches, with 34 participants, Veca made it into narrower category. Next event to take place was collegial ranking. This class received maximal number of Certificates, e.g., five. Veca won the fourth place and got a Certificate. The first place went to Kaca od Drndarskog, second Lea Ravangradska, with a young Czech woman owner, and the third to Tila od Lipovacke sume. Her owner, Vladimir Ktstevski was very dissatisfied with her placing. The last qualified bitch was Dona (Diego and Ceca Vujanska). We filmed the exhibition, so we do not have the pictures for illustration. For Veca this was the beginning, the first of four necessary CAC and Certificates.
Toward the end of our visit, on October 29th, Veca took part in an exhibit in Debeljaca. The judge was Tibor Sehter, who also judged this dog breed at the world exhibit in Budapest. In the catalogue Veca was alone, in the class of mature dogs. However, there soon joined her one more bitch, registered late. This bitch, obviously of Caucasian origin, was awarded CAC, while Veca got RCAC. Only upon return to Belgium, I noticed that the bitch who was awarded CAC was only 11 months old, and that her owner also attempted to show her in the class of mature females on the exhibit in Novi Sad, where this was, however, noticed. I sent a letter in regard to this injustice to the organizers of the exhibit in JKS, and also to Kinology Association of Vojvodina, never to receive a reply or correction. This is how Veca's CAC was stolen.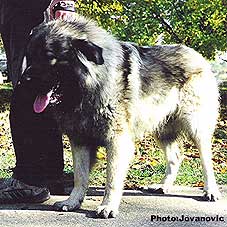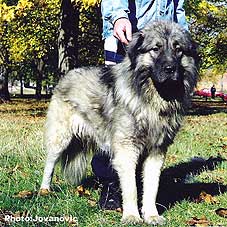 At that exhibit we encountered Nenad Stojmenovic-Piksi. He brought Aleksa in the class of young dogs, Taras in the class of mature dogs, and Tigar in the class of champions. The three were brothers, but Aleksa was the youngest. Tigar, a small dog with an impressionable head won a CAC and BOB.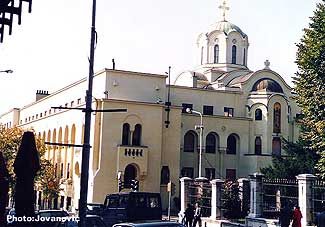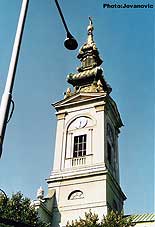 As usual, we visited our friends, took walks around Belgrade, and went often to restaurants. Here are a few photographs taken on those occasions. I wrote about the Saborna Church as I described one of our previous trips. Now, a few words about Konak. This residence of a member of royal family, Princess Ljubica, was built during 1829-1831. It was built on the orders of Prince Milos Obrenovic to house his family, Princess Ljubica and sons Milan and Mihajlo.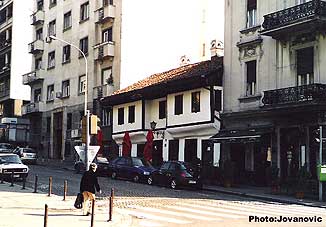 This house is the most representative city building from the first half of the XIX century. From an architectural standpoint it embodies all characteristics of the oriental architecture and its style is known as Serbian-Balkan. Under the western influence, it also has some elements of classicism. Once Prince Milos receded from his throne, the building was used for various purposes, while in more recent years it became a part of the Museum of Belgrade and is used to exhibit museum artifacts and to host painting exhibits. On permanent display it houses the original furniture in the oriental-balkan style, and some in the classic, bidermeier and neobaroc style.
We visited only Goran Neskovic from the breeders of Sarplaninac. At that time Goran was very proud of Roki whom he procured from Restelica, of the famous Arif Aga, most likely the same breeder from whom we obtained Zoe. Roki was already an old dog and had many marks of the fights he took a part in while still living on mountain Sara. This was a dog of medium height (71-72 cm), exceptionally compact, with beautiful angles and positions, and a very powerful head. One disadvantage was his somewhat light eyes. As Goran liked to say, the dog was exceptionally generous, behaved nicely, and was very well balanced.