NWe left Belgium in three cars: Marianne, who registered Qarapacha, together with a friend, Léon who registered Odra and Stan and I as visitors. We invited ourselves to be the guests of our friends Marika and François. Marika is one of the first friends I got in Liège. She is by origin from the south of Montenegro and was a nanny with the ex ambassador of Belgium in Belgrade. Since a number of years she went to join her parents in Switzerland and there she got remarried. We were only going to meet François. It was more than a warm welcome. They were living in a nice chalet in a village not far from the Neuchâtel Lake. François was a gardener by profession, so you can imagine the care he gave to his beautiful garden.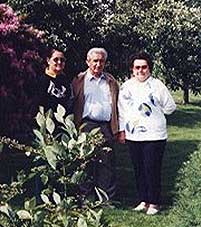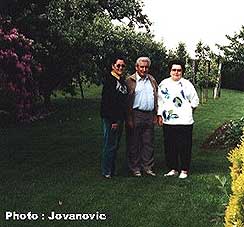 Marika cooked us some special dishes, but what we particularly remembered was the cheese from the village, the Gruyere, the "fondues" and the "raclettes" which we tasted together with the excellent wines of the canton Vaudois.



The next morning we had to wake up early to go to the exhibition in Bern. The exhibition was held in the center of the town and I kept very bad memories of this enormous muddy parking, wherefrom we made an endless walk to come to the exhibition hall. Like with all the European and World exhibitions there were no cages, but a kind of framed space, without a door or a roof, and much too low for our big dogs. On top of that the installations were located far from the ring, in Bern even one level lower for our dogs!
21 representatives of our breed were registered. The judge for our breed was a Swedish woman, Mrs. Anne Marie Thomassen. She did not too bad, except for two tree injustices. The one I particularly remembered was the first place for the bitch dog Hepsy des Hauts de Malforet, while as per my opinion, another bitch dog deserved more to obtain this place. I think more particularly at the bitch Fakia des Bories de Yakoubia belonging to Miss Falenot. It happened that the owner of Hepsy, Mr. Weiss, just lost his wife the day before the exhibition and he hurried, fully in tears, towards the judge to tell his story while the judge was judging. This behavior brought results!

Hereunder the report about this championship, in picture:
Class of adult males
COM
1) Hash des Hauts de Malforet
2) Argus von Wilja Hof
3) Les Montagnes Serbes Qarapacha
4) Don Efo od Gim-a
Hash des Hauts de Malforet Argus von Wilja Hof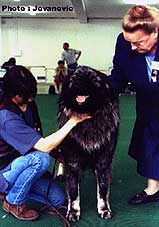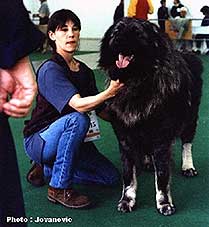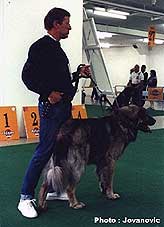 Les Montagnes Serbes Qarapacha Don Efo od Gim-a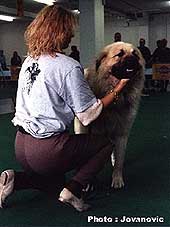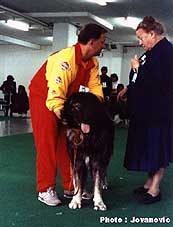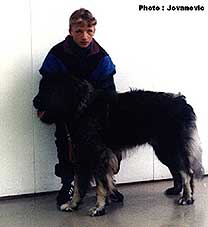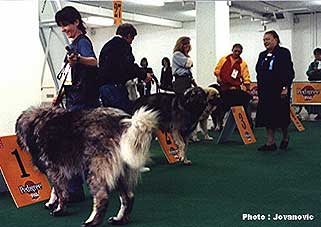 Classification of this group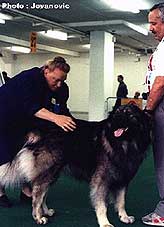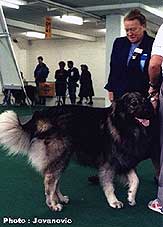 Azur exc.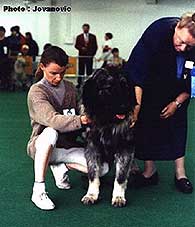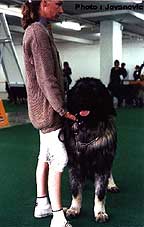 Henky from Hauts de Malforet finished with the mark very good.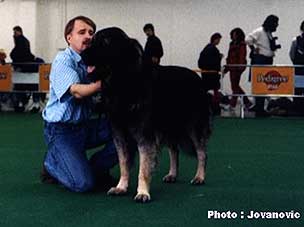 There was also a son of Dingo-Ben who participated but he was not classified .
CCHM
1) Bucko Vujanski
2) Grom od Gim-a
3) Grundy od Miv-a
Bucko Vujanski Grom od Gim-a Grundy od Miv-a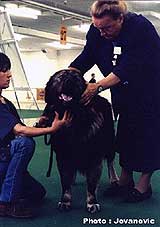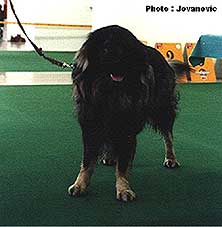 The titles of world champion went to the following males:
Bucko Vujanski, reserve was Hash des Hauts de Malforet; both were from the Rouchon family.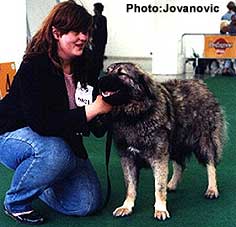 CYF
1) Ida, beste Jugend

COF
1) Hepsy des Hauts de Malforet
2) Huckraine od Maribor
3) Kincsem Kim Bitorajska
4) Nikoleta od Zakline
Hepsy des Hauts de Malforet Nikoleta od Zakline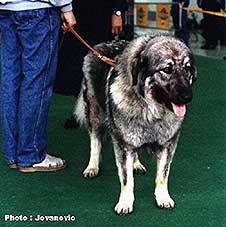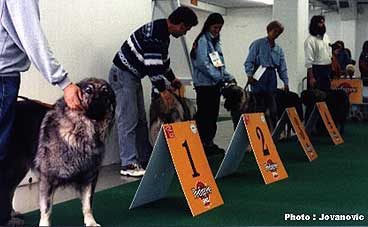 Classification of this group
CCHF
1) Fakya des Bories de Yakoubia
2) Forez des Hauts de Malforet
3) Les Montagnes Serbes Odra
4) Rina von Satansberg
Fakya des Bories de Yakoubia Forez des Hauts de Malforet
Les Montagnes Serbes Odra Rina vom Satansberg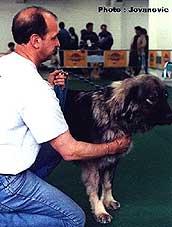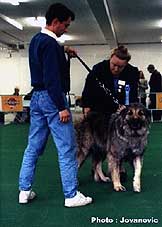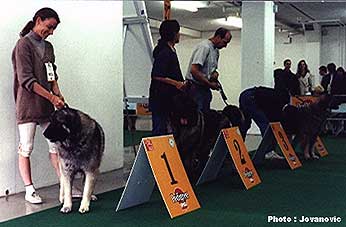 Classification of this group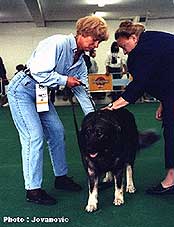 Zaklina od Toplicke was not classified; I think she had a leg injury that day.
For the females it went to:
Hepsy des Hauts de Malforet, reserve was Fakia des Bories de Yakubia.
The title of young world champion went to the female Ida from Miss Meunier.
The day after the exhibition, Mrs. Jennings brought us to the special exhibition of our breed from the club of eastern shepherds, which took place not far from Bern, in the town Zoffingen. The only Sarplaninac dogs, which were present, were Grundy, Kinchem, Odra and Qarapacha. Odra and Qarapacha ended up as 1st Excellent and Odra BOB. It was a beautiful day, sunny and the judge of the club was very competent. We remember one funny story. Marianne was sitting on the floor at the edge of the ring, holding Pacha. One "macho" passed one or two times with a Kuvacz dog and Pacha reacted, as it should be. On third trial, when he entered the ring under the ribbons, just next to Pacha, Pacha jumped on him with full force. Marianne not enough concentrated was sitting on her backside and she was slide into the middle of the ring where the Kuvacz entered and situation could have been much more serious if Stan did not help Marianne. We laughed a lot seeing this scene but with the Swiss people the negative opinion on our breed was reinforced and Mrs. Jennings was desperate. She said that all her work regarding the image of the breed was lost.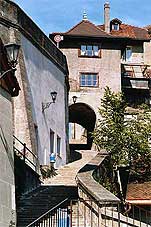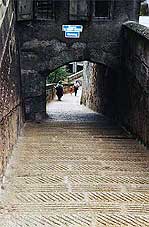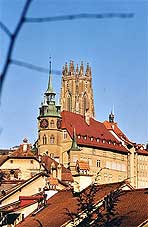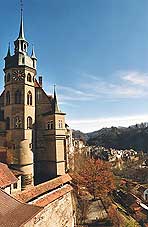 We stayed one more day to do some sightseeing and our hosts have showed us the beautiful town of Fribourg. We have visited a splendid castle on the hill next to the Neuchâtel Lake and in the front of its doors we caressed an impressive Saint-Bernard dog.