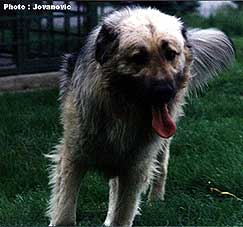 After visiting Mr Orasanin, still looking for a male puppy, we have visited Mr Dusko Dokic,
whom we met at the Seminar in Smederevo. Dusko was very talkative and he was also a pigeon breeder. This is why he often underlined that he knew the genetics. His Sarplaninac were at the country side, outside of Belgrade. His weekend house and also the property were beautiful. The dogs were kept clean. It was only the access to the house which was problematic. The one who welcomed us was a young original Sarplaninac which Dusko got from the village Strpce in Kosovo.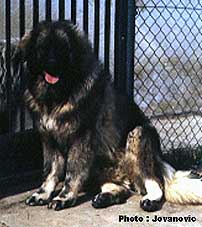 He also had a big adult male, very dark and hairy, I don't recall his origins. There was also Freni, daughter of Dik and sister of Fili from Mr Voja.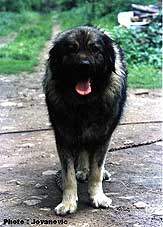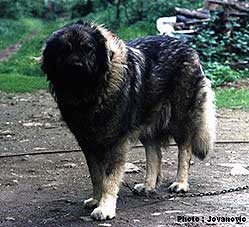 Very soon after this visit we visited Mr Voja. He had the very nice Fili, daughter of Dik.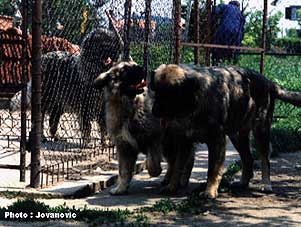 As we told him that we were searching for a good young male, Mr Voja brought us to Borca village, to Mr Vesa Vijatov. There was the third daughter of Dik, Fejda and her puppy of approximately 4 months old. The puppy was called Feit, nicknamed Arci. He was very joyful and very vivid.
Afterwards we went to Pancevo to see its father, also called Arci. He belonged to an invalid person. It was a quite aggressive dog, so that I had all the time to take pictures of him through the fence. It was a nice dog, of dark iron colour. He was the son of Karabeg, probably brother of Aga, which Mr Goran Neskovic used for breeding.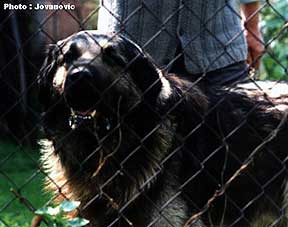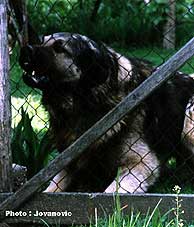 Our stay in Serbia came to an end, as I accepted to judge on 15th May the Special Exhibition of the German Club of Sarplaninac and Kraski Ovcar. The exhibition took place in front of the castle in Rehling. So we made a reservation for Feit. As we were in Pancevo, we got the idea to visit two schools of well known naïf painters. One school was in the village of Kovacica, founded by naïf painters of Slovakian minority. The other one was in the village of Uzdin and was founded by women painters of Romanian minority. In Kovacica we visited the painters Mr Martin Paluska, Mr Martin Jonas, Mr Jan Sokol and Mr. Ondrej Venarski. In Uzdin we visited Mrs Marija Balan.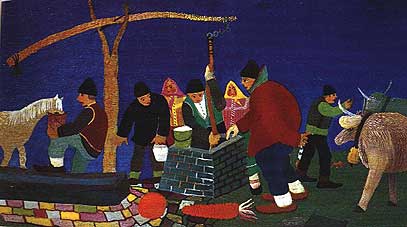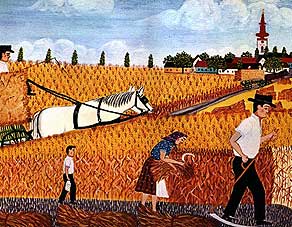 Martin Jonas Jan Sokol
Ondrej Venarski Marija Balan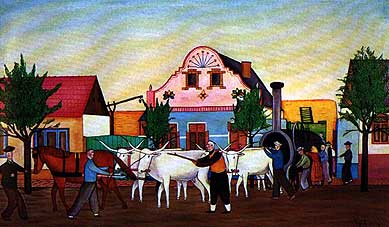 We were most impressed by Mr Martin Paluska, miller by profession.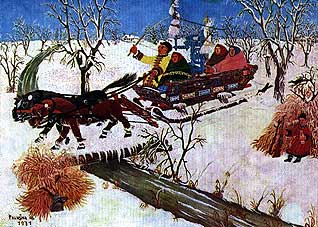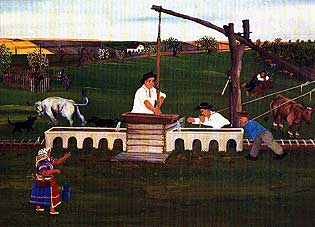 We bought a few paintings from him. Those paintings together with those of Mr Dobrosav Milojevic, with its colours and its life motifs of country life are brightening our entrance hall.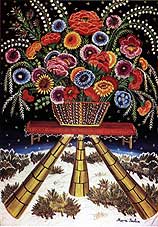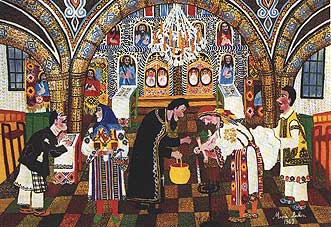 Mrs Marija Balan, already aged, had a specific way of painting, like it was done as a broidery. The colours were flamboyant and very joyful. Today most of those painters are dead.
We went on the road with Feit, called Arci, who became later on Sokrat. Unfortunately, we did not make our friend happy, because it will be shown later on that Feit was suffering from a very bad (dysplasia) and he became very fearful what was not to be foreseen when we bought him. Since then, I explicitly refuse to buy a puppy for whoever.
The Klubschau 1994 (the Club Exhibition in 1994)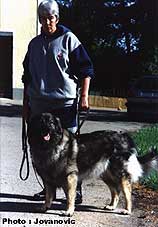 My first impression was that the quality of the dogs improved, in the space of one year, when comparing the dogs judged in Dortmund. 27 Sarplaninac and 2 Kraski Ovcar were registered.
In the class of the young males, the nicest male was missing one small premolar tooth, so I placed his brother, whom I liked less, at the first place.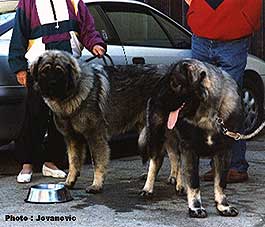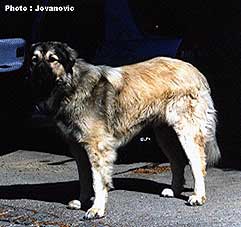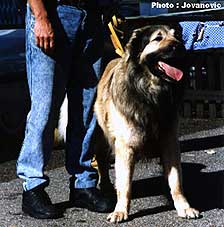 Here the lists per class of the first 4 dogs :
Class young males
1) Bento von Blankus, Exc. 1, Champion des jeunes du Club
2) Beauty von Blankus, TB 2
3) Ari V.D. Rissnebeln, TB 3
4) Ginger von Kupfenberg, TB 4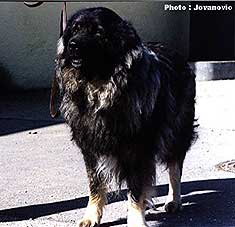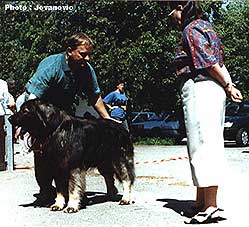 Class champion (adult) males
1) Grom od Gim-a, Exc. 1 (photo<)
2) Orco, Exc. 2
3) Duk von Köpeltal, Exc. 3
4) Grundy od Miv-a, Exc. 4 (photo>)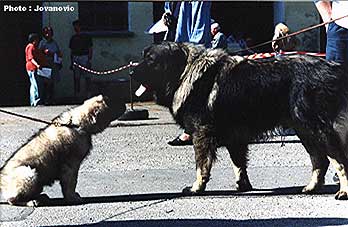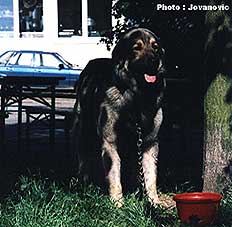 Open class males
1) Don-Efo od Gim-a, Exc. 1, Champion de Club et BOB
2) Hrvoje-S., Exc. 2
3) Argus v. Wilja-Hof, Exc. 3 (photo<)
4) Romaimandula Dik, Exc. 4 (photo>)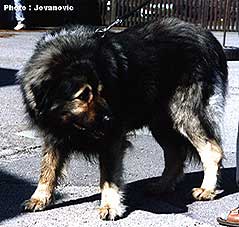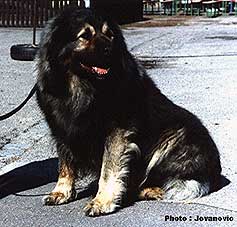 Class veteran males
1) Akela z Klamovky, Exc.1
2)Alf von der Ostrauer Flur, Exc.2 (photos)

Class champion (adult) bitches
1) Zaklina od Toplicke, Exc. 1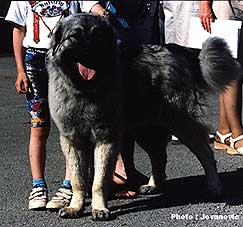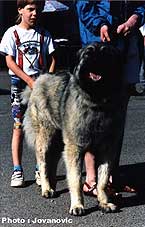 Open class bitches
1) Hepsy des Hauts de Malforêt, Exc. 1, Championne de Club
2) Nagy-Mogul Debbie, Exc. 2 (photos)
3) Nikoleta od Zakline, Exc. 3
4) Nela "Bony", Exc. 4
In the open class of male champions, Orco was a bit longer and slightly overbuilt, otherwise a very nice dog. Duk was a smaller model, overall very proportional. Grundy was already a veteran.
In the open class males Don-Efo, son of Grom od Gim-a was dominating by his height, nice angles and he had a very nice head and presentation. The second placed dog, Hrvoje was also a very nice dog, he only had a downwards upper line. Argus had clearly a lighter head, a less strong chest but he was walking beautifully.
Dik had a too molossoïde muzzle and a very dark colour.
I was very happy to see among the veterans the dog Akela z Klamovki, because he gave a lot of descendants in East Germany and a few very nice sons. I liked him very much, his head was magnificent and his son Alf inherited the same head.
The female champion Zaklina od Toplicke was alone in the ring, but there was no default to notice. Only maybe that her fur was in a bad condition.
In the open class bitches Hepsy dominated by her size and she had very nice movements. I liked less her head. For Nagy Mogul Debbie I liked especially her head and her expression. Nikoleta, quite light, was moving very nicely and she had a perfect back line. Nela was absolutely perfect.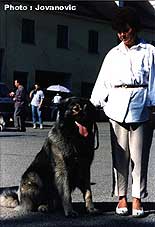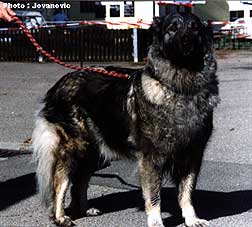 Here some pictures from the two bitches, which were not classified.
After a very good lunch, we went back home.