In May 1994 I accepted the invitation to judge the Sarplaninac dogs at the CAC exhibition in Velika Plana.
All the young dogs were judged by my friend Mr Bjelica, the adult dogs were for me. In the catalogue there were 62 Sarplaninac dogs registered. I had to do the classification of all those Sarplaninac.
Stan was filming and making pictures, what explains that he did not take pictures of all the dogs. This was the case for the best male and the best female in the open class.
I gave two "Very Good" marks, while with Mr Bjelica all the Sarplaninac got an "Excellent" mark, but he criticized me that I was "too soft". From the side of the ring you could hear "she is crazy, the dogs will tear her apart". The visitors and the exhibitors were very surprised to see a judge who dared to examine all the dogs, what is unusual in Serbia.
My general impression was that majority of the Sarplaninac dogs were strongly built and very tall, but that exactly those specimen distinguished themselves by very bad movements. This is why I chose the smaller ones with correct and fluent movements. The dog which was the best (CAC) had on top of that a strong temperament and was aggressive. He was the only one I did not dare to touch and it's not that I didn't try. I could feel that certain breeders, among them the best known, were surprised and offended that I did not choose their big dogs. This was the case of Mr Orasanin Nenad where we were received, a few days later, rather in a reserved way.
Mrs Vesna Bojovic showed an enormous young female, with very bad movements. I only noticed later that it was Zana Vujanska, mother of Merkur Duca Vujanski, one of the big Yugoslav champions and sister of the even better known Zita Vujanska, also champion and mother of several dogs who came, rightly or wrongly, on the exhibition podiums for several years.
The presence of the military kennel was noticed. They showed several high quality dogs : Cal (RCAC), Bos (3rd Exc), bitches Feba (CAC), Deja (RCAC) and Emilija (3rd Exc), and also Huli, the best young female.
Here is a series of pictures from this exhibition, mainly from the class of young dogs and a few males from the open class (18 pictures).

CPM
CARON & AFR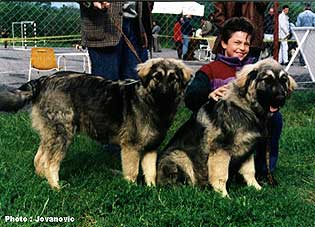 CJM
SAFIR AGAT BRITO-PLANINSKI-DUH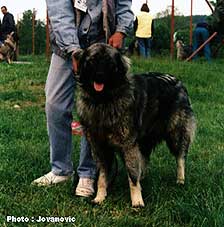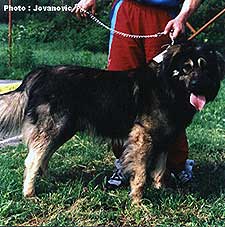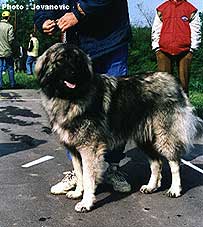 DINGO MAG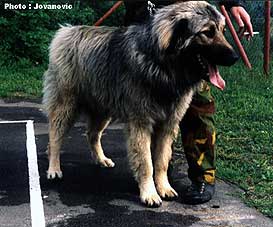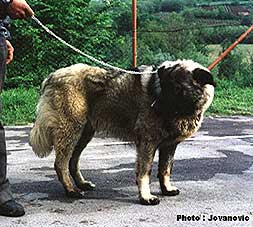 MIKI ALEKS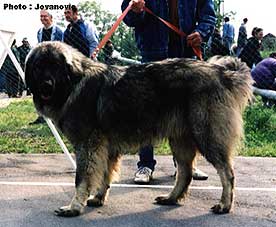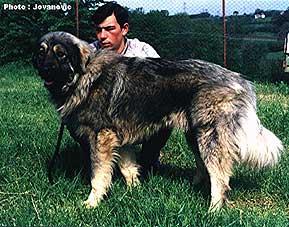 VUD ZEVS-VUJANSKI (MJ)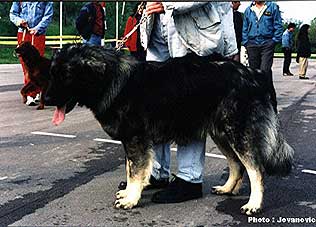 CJF
BERA EMA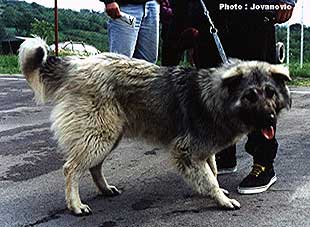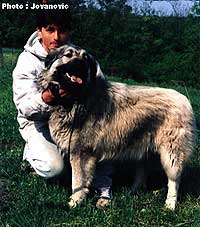 COM
AGA BOS(3èmeEXC)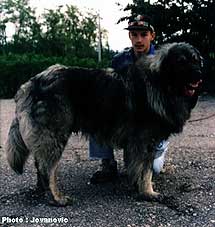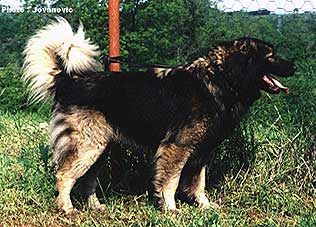 CER DZAP OD BJELICA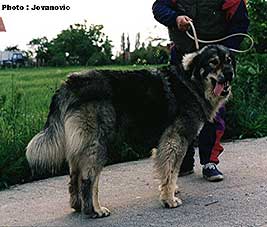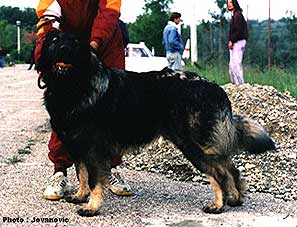 CAL(RCAC)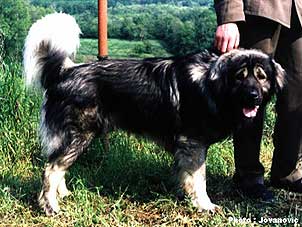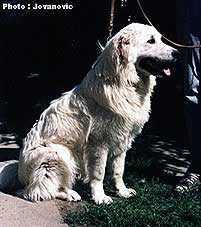 After this exhibition we stayed in Belgrade and had the opportunity to visit several kennels of Sarplaninac. We have, of course visited Mr Goran Neskovic. That year he had a white Sarplaninac, called Snesko, in his garden and originating from Sara. We teased him a little bit because Snesko didn't appeal to us. The dog was of modest constitution, with a nearly feminine head, he ressembled more a Kuvacz than a Sarplaninac. It's rather surprising because on Sara, the white Sarplaninac Merdjani, is the tallest variety of our breed. I do not know why Snesko had so modest proportions. After approximately two years, Snesko disappeared from Goran's garden.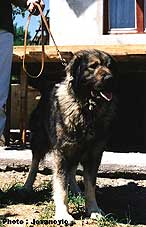 Goran showed us in a near property Aga, son of Karabeg. It was a very nice Sarplaninac of dark grey colour. It was limping on one hind leg. It looked that he had a car accident and Goran used him later for breeding.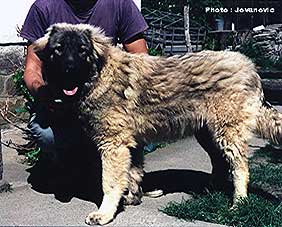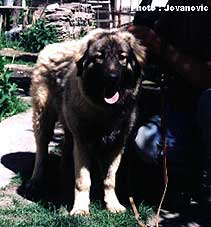 At Goran we admired the very nice and young female Boa. She was of Karabas variant, strong, correctly built with a very beautiful head.





While looking for a male puppy for our friend in Belgium, we visited several breeders. So we went to Piksi. We did not regret this visit, because at this occasion we saw one of the most beautiful representatives of our favourite breed. It was the male Buco.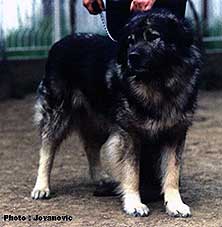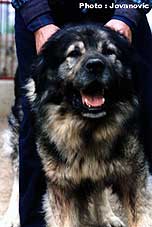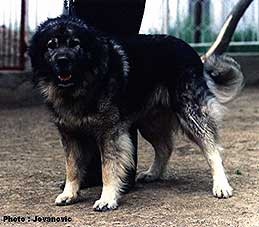 Buco had a head as you can only wish, one of those I am showing as ideal. The body was very compact and also harmonious. Everything at him was beautiful.
Unfortunately he had one default, the absence of two small teeth in the upper jaw, but we could only assume that it was congenital or accidental. Second is less probable as the absence was bilateral.
Buco didn't stay at Piksi, but Piksi used him for breeding. From this litter Piksi kept Apis, who will be the father of Tigar and Taras, which will be mentioned in another text. With Buco another interesting dog was showed, originating from the Devic monastery (Kosovo), Culjo.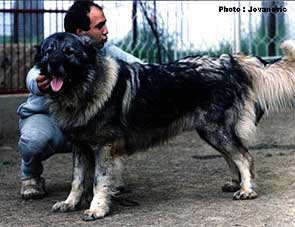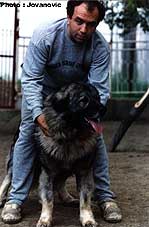 Culjo had a body clearly longer than Buco, this is why the breeders were not interested.
We visited Mr Orasanin in Zemun. As I already said, the welcome was rather cold, because his dog Badza VIII Rone od Vuka did not obtain a title with me, but only a mark "excellent". The dog was too long, not very strong and had very bad movements. He was the son of Satan (brother of Dik) and from Rona, a magnificent bitch from Mr Orasanin.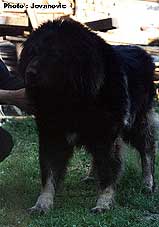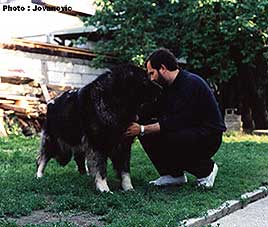 The one we liked the most was Atlas, he became very strong.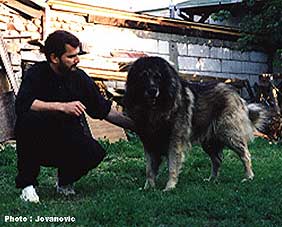 And Golf and Vulkan became much stronger then what we remembered from previous exhibitions.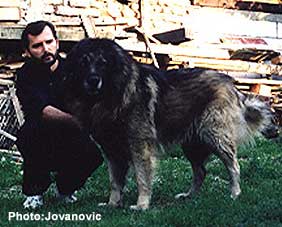 But you could notice on Vulkan that he was getting old.
The female Ambra, the daughter of Atlas, astonished us by her height and big body.