We have organised our trip to Gard to see Rika again in consideration with a reunion of Sarplaninci organised by Mr Salomon at Macon. He aimed to bring the dogs of his kennel together with the Sarplaninci dogs of his acquaintances to have their characters tested (TAN = test of natural capabilities). He invited me to judge the characters of the dogs. Apart from the line of the head, favourite subject of Mr Salomon, next one was the TAN. In every occasion when discussion started about Sarplaninci he was finding the denomination very stupid – he was quite right about that. Because according to him it was not only the natural aptitudes but the behaviour of the dogs was also influenced by education, obtained reflexes, experience, etc.
7 dogs participated at this test: 2 female dogs from Mr Salomon, Alpha and Boon – products of his kennel, Everest, Emir and Eden from los Torros, a dog belonging to a lady breeder from the area, originated from the kennel les Hauts de Malforet, and one dog from Italy.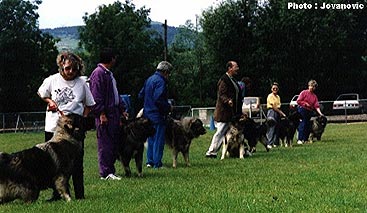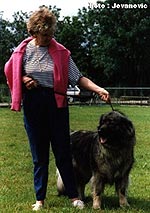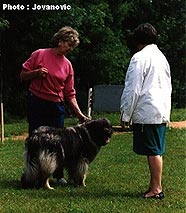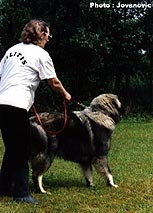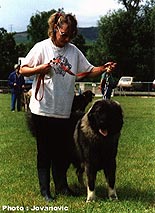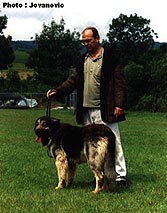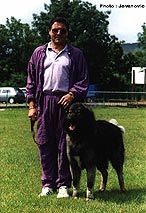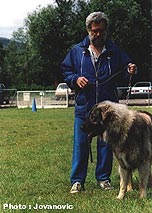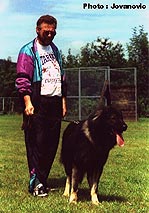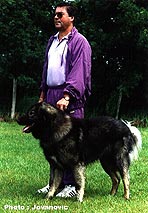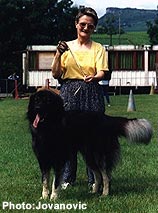 There was one dog trainer playing the role of the apache. All Sarplaninci were acting indifferent, even "joyful" during all the tests. They were all very social. The only exception was Boon from Domaine de l'Arc, belonging to Mr Salomon. The dog showed excellent capability for object protection, defence of the owner, etc. We were very satisfied to be able to see again the 3 sons of Arap and Boon : Everest, Emir and Eden.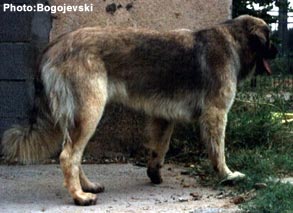 Since the departure of Rika, we got very few information and pictures of her and always thanks to the Bogojevski family – never directly from the Alvaro family.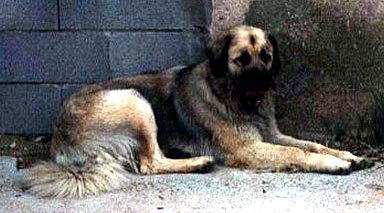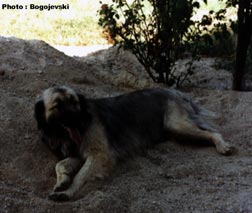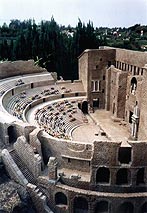 We had a great wish to see her again. We heard that during the summer she loved to bath in the Perrier source, which was very near the village of Vergèze, where her owners where living. That was definitely not permitted but Rika didn't care about that! We also found out that Rika became mother for the second time, although very young, her puppies did not get any pedigree. The Alvaro family never took her for confirmation in France. The father was from Bogojevski kennel, son of Sljiva and Meda. His name was Porto. He was the most beautiful male out of three from this litter, though quite dark colour.
Antoinette once more accepted to keep our dogs and house and we had one week for this trip.
The road lead us trough the Rhone Valley. We rented a house in a rural house, I don't remember the name of the place, but it was near Vergèze and Nîmes.
Orange was the first town we visited and its antique Theatre attracted us the most. It is the most preserved roman theatre preserved in the western world.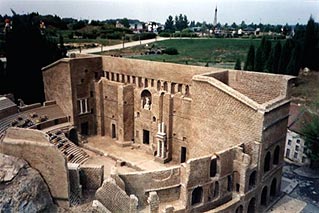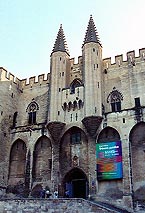 The same day we also visited Avignon, but it was too late to visit the interior of Popes palace.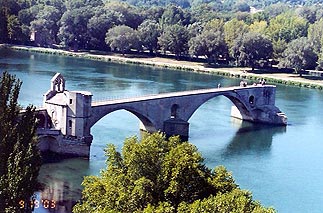 We spent some time in the front of the palace, we admired from the nearby Park the roofs of Avignon and we also visited the old bridge of Saint Bénezet.



At the end of the day we went to the famous "Pont du Gard" and admired for a long time this impressive construction.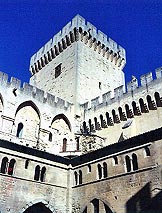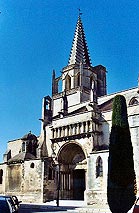 The day after, on the 22nd June, we visited the towns of Beaucaire and Tarascon and we spent several hours touring the XIV century castle of Tarascon and admired the Gothic architecture, the view of surrounding from the castle walls and the tapestries representing de scenes of Greek and Roman history. Not far from the castle, we saw a nice little cathedral.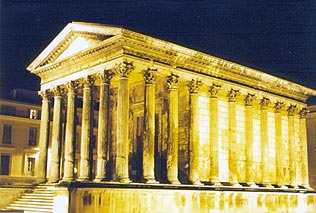 The next day we visited Nîmes. We only visited the arena and the square houses.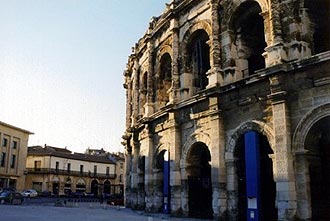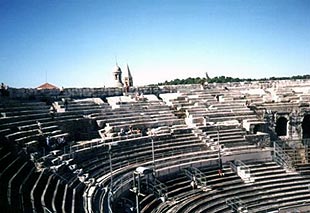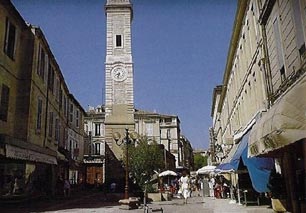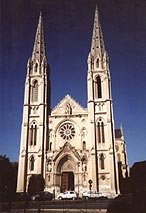 We also strolled through the town centre and even did some shopping in small elegant shops.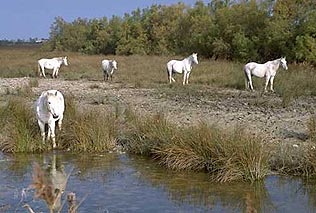 The same day we passed through the Camargue and visited Arles.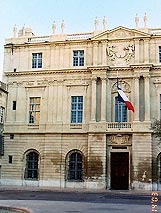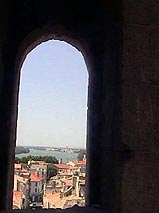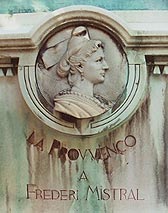 During our trip we went twice to visit the Alvaro family and both times I had impression that we are disturbing them. Each time they were in the hurry to go somewhere, although we announced our visit. The road leads us through pine forests, vineyards and lavender fields. Stan accepted to drink a cup of coffee but I preferred to spend some time with Rika, to try to put forward from her brain memory on us, to look details about her puppies, to film and make pictures of her.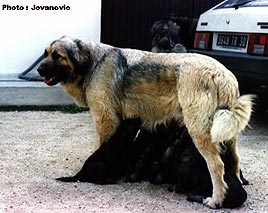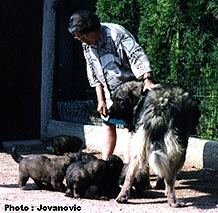 Rika was excellent mother and Porto was an adorable Sarplaninac. Never before or after I have seen a father dog licking and nursing his puppies as had he done. The property was very nice and apart that I was worried about whether the puppies without pedigree would find a "home" I concluded that Rika was living in good conditions.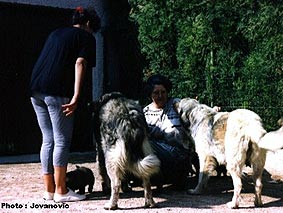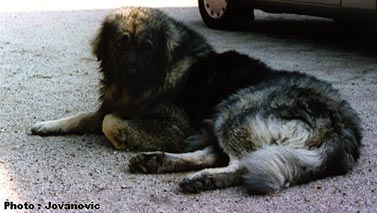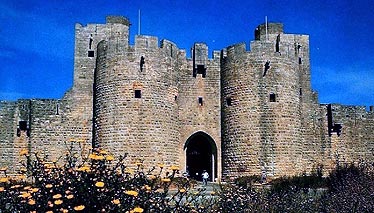 Next day we visited the yacht marina "La Grande Motte". There were thousands of yachts! Around noon we arrived at Aigues Mortes (pict. 30), a small fortified town with impressive walls. We passed again through Camargue, country of small white, half wild horses, buffalos, marsh birds and wind constantly whistling through the reeds, making a strange music. We visited the "National Reserve of Camargue", the Vaccarès and filmed a number of marsh birds. In the afternoon we stopped at the well-known resort and beach of "Ste Marie de la Mer". Compared to Adriatic this sea was quite disappointing, water was grey due to movable sand and same wind was as in the Camargue.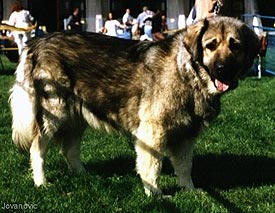 After one week we had to go back and never saw Rika again. By coincidence we saw in various expositions in France three of Rika's daughters, one from first and two from the second litter : Hygie, Irka and Indra. The owner of Indra tried to have the initial pedigree through various exhibitions.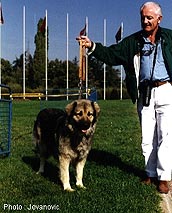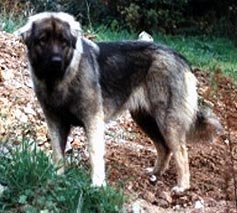 We found out later that Rika's owners divorced. Porto was placed at a garage near Vergèze, where he was later put asleep because of "aggressive behaviour"!! Rika stayed with Mr Alvaro as he liked her independent character. They returned to Belgium and Rika was living at one farm in Grès-Doiceau, with the same family who took her to the south of France. I tried a few times to make a contact with this people but without any success. Approximately one year ago Mr Bogojevski informed us that Rika was poisoned, quite some time ago, by the neighbour farmer. He was claiming that she killed one or more chickens from his farm.
What a waste and sorrow!