As usual we have spent a part of August and September at Bisevo, a small "Robinson Island" near the island of Vis. It is practically situated in the middle of the Adriatic sea, very near the Italian territorial waters. Our dogs were entrusted to the good care of Antoinette, our cleaning lady. And as usual it were no real holidays because most of our time we spent by carrying out the works on the little holiday house, which we have built at the summit of this magnificent island.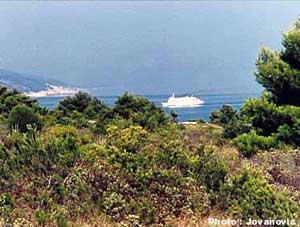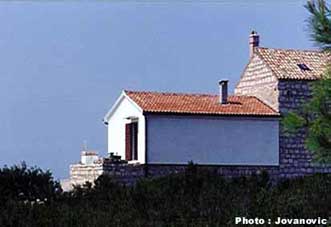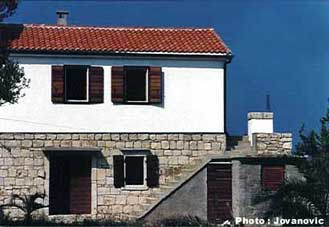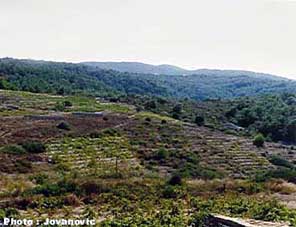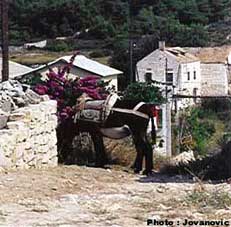 We have spent all of our holidays here since 1965, this to tell how much we were in love with this dream place. The nature is intact, there is no road passable, there are only donkey paths, and there is no shop, no restaurant, except during the big season and for years there was no electricity. You are totally depending on a little boat which is making the connection with Komiza, the nearest port to the island of Vis. Bisevo is practically uninhabited during the winter, but in summer the houses are filling up with fishermen's families.
The nature is very nice, the paths are leading you to vineyards and pine forests. The southern part is totally uninhabited, covered with thick bush and ends up suddenly with rocks were big waves are breaking on. The water is blue and clear, like nowhere else and the sun is very strong. At noon you can only hear the music made by the crickets. On the beach, under pine trees, plants, family of the lilies, with an exquisite perfume are blooming and at springtime the island is unrecognisable, completely green and in blossom and smelling even stronger.
When leaving our island we did not know that the war was very near, but after, when travelling through Serbia, we witnessed the mobilisation and the movement of the troops. After years of war and uncertain times, we have grown old and accumulated health problems and this is why we have not set foot any more on our beloved island. At present we would like to sell this house, which is under threat to fall apart under the effects of the sun and the bad weather.

Once we arrived at my parents in Belgrade, we have visited several kennels of Sarplaninci. We went back to Sremska Mitrovica, to Perakovic. Zlatko showed us his dogs, there were new females and a young male, Arthur, but his angulations were too open and he was clearly inferior to Tarzan.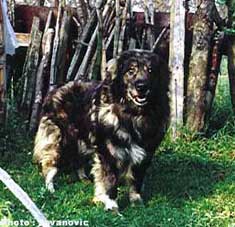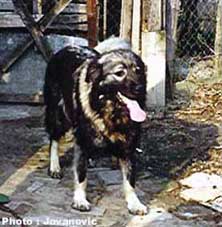 Zlatko took us left and right. He showed us a 10 year old male, practically blind and his daughter Lola. Both had their eyes too much opened, a little bit globular.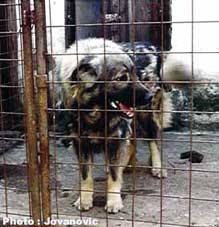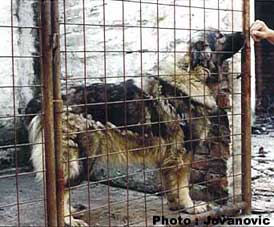 In another yard, he showed us a beautiful and big female, also named Lola.
Afterwards we have visited, still in Zlatko's company, the kennel of Sveto Vasic. Ancient breeder of Sarplaninci, he just converted to breeder of Caucasian Ovtcharka.




We admired for long time his magnificent Caucasian, so much resembling our breed, that it was nearly impossible to recognise that it was a Caucasian.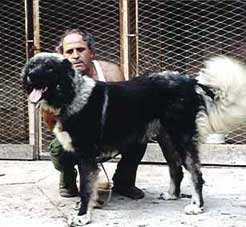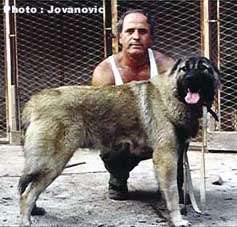 This was not the case with his female and the other Caucasian male.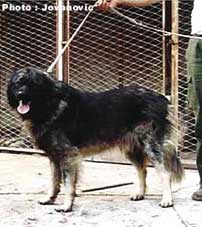 Sveto still had a couple of Sarplaninci, Tajson, which we saw at the exhibition of Kragujevac and a female. Tajson was a Sarplaninac like our Arap, not very heavy but harmonious. Later we had the opportunity to see his son and a few years later his grandson, Bigor who is nowadays with Boban Petrovic in town of Nis.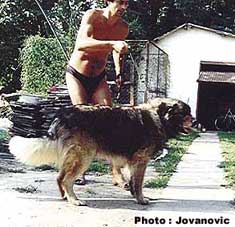 In the vicinity of Belgrade we visited at Baric, and this is not for the first time, the kennel of our friend M. Neskovic. At that moment, he had as male dog Karabeg, already 8,5 years old. He was very agile and jumped from the box over 2 m. Karabeg was carbon fawn-coloured and of modest height, had a nice head, excellent angulations and posture. His mother was originating from the mountains.








As females he had Minika and Bula both were of the "Mitrovacka" line, with quite a long muzzle and with less expressed stop.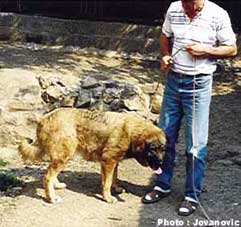 After the exhibition of Cacak we visited in Prislonica, the kennel "Vujanski" from the couple Skipic-Bojovic. Mrs Vesna Bojovic was owner, together with her first husband Milos, of the first civil kennel in Serbia. She has a great experience. Mr Skipic is also an ancient breeder of this breed and is without doubts one of the best "connaisseur" of the breed. They showed us a female, introduced as a dog originating from the mountains. She was yellow but I'm not persuaded of her origin.

Then after, we had to admire a young hope, Zoro-Bucko, son of Gari-Korab, which we had the opportunity to see at the exhibition of Kostolac.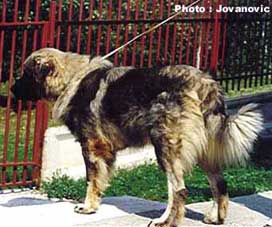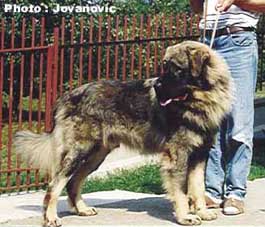 Zoro-Bucko was certainly better than his father, but he had still a few characteristic of lymphatism. His portrait figures on the first book on Sarplaninac, written by M. Skipic. He was short, compact and had very good postures and angulations which was not the case with his father. When I said that I preferred their champion Cer-Meda Marsoniski, Mrs Bojovic hurried to show me that Cer-Meda had no correct pincer bite.

We also made acquittance with a breeder of long date, Mr Cvetko Milic. He is living in Jajinci.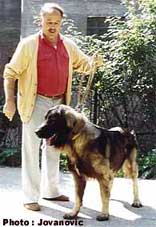 He showed us a young male, son of Ding-Ben who had several faults,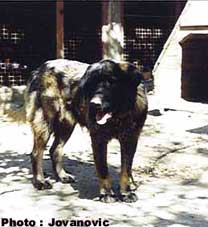 and a young female, too black as per my taste.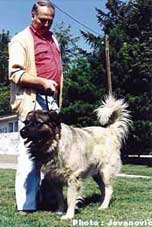 He had still another valuable female, Malena, her photo is not so good. When discussing again about a type of Sarplaninac smaller and more compact, he brought us to one owner in Belgrade, Cubura, to show us a dog named Pacha. His origins were probably very valuable but he gave me the impression to be a dog with lack of elegancy, with too much gut as the French say.
We have also visited other kennels and 2 exhibitions. This part of our visit will be mentioned another time.