During the 1988 summer holidays, we went to Yougoslavia . We had promised at a belgian Lady- who had lost a dog of another breed- to try to find a Sarplaninac puppy and to come back with him.. At that time we had no puppies as Zoë was too old to be mated and Lola was too youg, she was only one year old. I also told her that I was not sure to come back with a puppy, and that in any case, to buy a puppy was a lottery.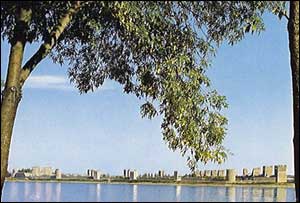 When we arrived in Belgrade, we went to visit the kennel of Mr. Peca Gvozdenovic, breeder and judge of this breed. His kennel is located in Smederevo, a city near Belgrade. Smederevo is a fortified medieval city, built from 1428 to 1430 on the bank of the Danube by Despote Djuradj Brankovic and his wife Prokleta Jerina (Jerina "the damned"). This city had to be the last rampart to the turkisch invasions. In the Middle-Age the fall of Smederova marks the end of the Serbian State. The vestiges of the Smederovo fortress are still well preserved. The fortress has been damaged during the first World War and by bombing during World War.

We were impressed by the installations at the Peca's kennel, large cages with nice kennels, all well kept and communicating through an anteroom. From time to time the dogs were allowed to run in an orchard. There were two mature bitches, one in gestation from Ljubomir, and the other out of condition, Zora-Mora who was already the mother of very well-known dogs. There were still 3 young dogs of the same nest. Amor who won that year the J.M. class in Belgrade, then his brother and a sister. The three of them were strongly built, the bitch almost as tall as the males, they had very wide croups and were very hairy, they had a particular coat uniformly grey and dull, long bushy with too much curls on the hindhand. They were waddling when walking, they could have had stronger heads but they were still young and their faults were probably due to their young age.

The following kennel we have visited was the one of Mr. Mate Perakovic in Sremska Mitrovica. Sremska Mitrovica is situated in Srem, on the bord of the river Sava. This town was built by romans.