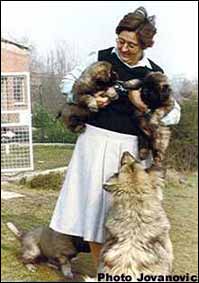 Zoé delivered her, and at the same time our, first litter on 8.02.1984, on the day of the opening of the Winter Olympic Games in Sarajevo. As we were novices in kinology (I did not even know which organization in Belgium administers kinology), I looked up in the telephone directory the address of the Kennel Club and registered our litter with them. I was not familiar with the rules regarding the names; I thus named the pups using "V" as the first letter, after Vucko, the mascot of the Olympic games. Only a couple of years latter did I realize that we joined the club of dissidents. For the same reason, I had some problems later on.
We decided to rear six out of ten pups Zoé delivered. Even that number proved to be too large and we had considerable difficulty finding homes for all pups, as this breed was totally unknown in Belgium at that time. Four of the pups found good homes, but for one, the most beautiful female, we could not locate the interested customer. Finally, I had to sell her at the market, when she was already pretty big. This proved to be a fatal mistake, as this beautiful, large, dark-haired female disappeared from the backyard of her owner as soon as she was one year old. They never explained what happened to the dog. Whether they left her ill, and probably without vaccination, somewhere on the street or they gave her to someone, will forever remain a mystery for us. The most ransom male, Vucko, stayed with us, since we could not find a customer for him either.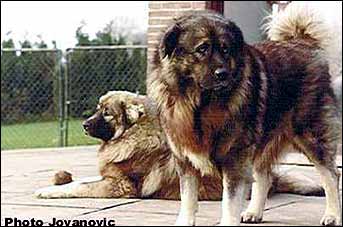 When he was 18 months old , he begun to tease Dadash in an attempt to assert his dominance. They engaged in a vicious confrontation, resulting in terrible injuries for both males. Following that incident, Vucko acted submissively towards Dadash, who no longer paid any attention to him? We had to separate them.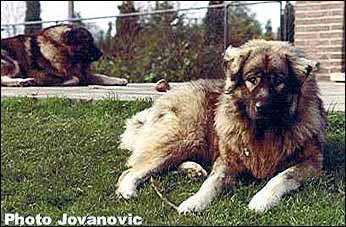 In August of 1985 we managed to sell Vucko to an older couple who took care of him with lots of love until the end of his life. As we drove him to his new owners, I could not see the road from tears and sorrow.