LES MONTAGNES SERBES
OD SRPSKIH PLANINA
Day of the Sarplaninac in Uden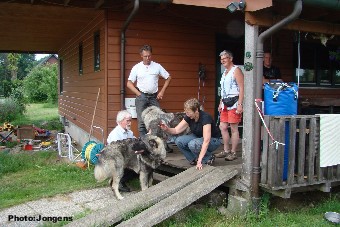 On June 7th the owners of the farm Grazerie near Uden, the Netherlands, organized the day of the Sarplaninac. From about 20 Sarplaninci, of which Louise Liebenberg knows that they live in the Netherlands, were present : 3 from the farm and 3 visitors. Mrs Louise Liebenberg has 3 Sarplaninci, two from Czech Republic: Zar-Beli, who is white as the name says, little Fena and a female of France. From the guests there was the young female, Ledi originating from Serbia and Bhodi, an imposing male originating from France and Les Montagnes Serbes Goranac, called Zoran, 9 months old. Mr. Peter Vink from the Club VHB, which gathers 14 breeds of shepherd dogs and protection originating from East and South Europe, was also present at this small reunion.
Our Zoran could not resist when he saw Ledi, he launched the invitation to play and that lasted for hours. He was also very much attracted by the special breed chickens raised at the farm. Everyone was full of compliments about the character of Zoran.
Zar-Beli, like all young dogs getting the education for the care and protection of sheep did not have any permission to take part at this meeting. On the pictures enclosed you can see that he reacted quite appropriate when the strangers approached the herd he had to guard.
I thank Mrs. Louise Liebenberg and also the owners of Zoran, the family Jongens for the pictures of this meeting which they were so kind to give me.