One year after my judgement in the Czech Republic, I was again invited to judge in Litomerice on May 25, 2003. This time I judged the CACIB and Mr. Bjelica Bratimir judged the special exhibition. At the CACIB there were 37 registered Sarplaninci, at the special one a bit more, 46 dogs, of which 2 Kraski ovcar. Mr. Radulovic was also present, as we had the annual meeting of the International Club in Litomerice. The weather was very nice, it was even very hot.
In my ring there were quite some dogs absent. I can not remember very well, but I think that the judgement at the CACIB exhibition and at the special were simultaneously, while I was judging the males, Mr Bjelica judged the females and that is where you have to look for the reason. Some people were afraid of missing the judgement at the special and they did not show up at the CACIB.
In the category of young males there was no hesitation, Murko was much better then Hakin. In the intermediate class Brgat was alone. In the open class victory went to Fill, here too there was no reason to hesitate, that year the dog was magnificent. On the basis of the pictures it might seem that Brgat did not deserve the reserve, but Falco's angulations were far too open at the back legs and the beautiful male Golem had a teeth problem, and Brgat has shown the most complete after Fill.
In the class of young females I liked both daughters from Bigor and Lara, they were very feminine and complete, there was also Murka, a beautiful female, but with a problem of wearing the tail and ears and having not much fur. In the intermediate class victory went to Goldie, who was the best female of the day. In the open class Meda was the best, but completely without fur.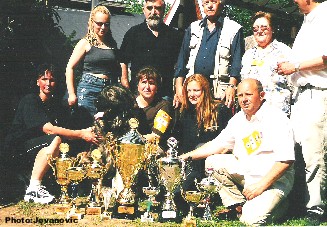 The absolute winner at the two exhibitions was Fill Ste Kot North, the son of Taras and Alka.
In the ring of honour the choice of best dog of the day was up to Mr Jovica Balac, who has unfortunately passed away, a great sinologist and a man of great human quality. The choice of Fill as best dog of the exhibition was absolutely deserved. I had tears of joy when seeing Fill on top of the podium, the applause of the public turned into a real ovation. You can guess how we celebrated this victory in group!