LES MONTAGNES SERBES
OD SRPSKIH PLANINA
THE KING OF THE MOUNTAIN KOZJAK , by Boban Arsic
Today around 3 p.m. my dogs have filled my heart with joy and above all, showed their courage. A few days ago, I employed a new shepherd, and today I spied on him to see how he herds the sheep. I followed him non stop at 200-300-400 meters, depending on the bushes and the situation, not to be noticed either by him, or by the dogs.
With this herd there were 5 or 4 dogs, I'm not sure, the rest of the dogs was with the other herd. I did not notice the wolf before the female dog barked and started running towards him. The wolf was at 150-200 metres from the sheep, Mecho (34 months) was on the other side and a little further away from the wolf. And when the wolf began to retreat Mecho went after him, he caught him, and probably seized him by the back leg, which I can not say with certainty, because I was 300 meters away from them. The wolf was chased and the time that the female dog and another male dog arrived, the wolf was no longer visible. Meanwhile, the white dog stayed, as usual, near the sheep. The dogs came back to the sheep after 5-6 minutes. This is the 2nd time I saw the dogs to be so near the wolf.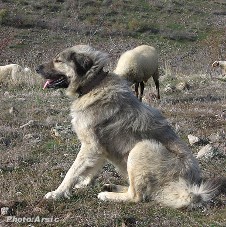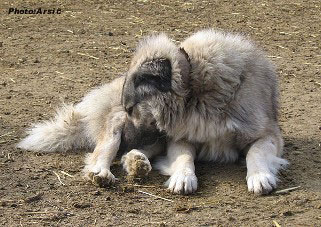 Jedino The only thing I regret is not having my video camera to film this event and the courage of all dogs, especially the speed of the leader of my pack. And now when I carry the camera, there is no beast to be seen, but when I by chance go to see the dogs and the herd, it is happening, but never before so close!
After putting this text on the Forum, this is what my friend DejanK wrote:
"Boban, your dogs have chased the wolves, but it appears that these wolves have come to Belakovce and killed my bitch. The shepherd said he saw them. They were 5, probably a she-wolf was on heat. My bitch, without brain, began to run to them and she never came back. The shepherd did not dare to abandon the flock, he first brought back the flock to the sheep-fold and then he went to search for her. He found her dead. And the other bitch managed to come back.

Regards"