LES MONTAGNES SERBES
OD SRPSKIH PLANINA
17th Meeting of Sarplaninci "Montagnes serbes"

Already the 17th meeting of the Sarplaninac from my kennel, though we have occasionally "jumped" a year. This year was a little different, we changed the "formula", the meeting was held on my plot, the owners gathered around a "spaghetti party and the photo shooting was not only assured by amateur photographers, like all other years, but we had the professional animal photographer. We had to rent and carry tables and chairs, but we did not have to carry the cages. We had to organise a restaurant bringing us the spaghetti, order drinks, finding some people to serve the participants.
Days in advance I was looking the meteorological forecasts, because without nice weather such a function would be total disaster. Well, we were very lucky, after a number of bad days, Saturday 22nd May was beautiful: blue sky without clouds, sunshine, hot but pleasant with some breeze. Participants brought to me three tents, in the case of rain but we didn't open them as the weather forecast was favourable.I was afraid for parking, but although quite a number of cars arrived, everybody found a place alongside my plot and across the road.


| | |
| --- | --- |
| MEETING | |
The family Piron had decided to promote my kennel and placed these posters on the rear window of their car.
There were about 45 people and about twenty dogs that gathered. From abroad, from Germany came the families Gehlhaar with "Anuska", the family Röder with "Sem", from the Netherlands the family Jongens with "Zoran". Silke with Babsy and Dragan could not come, she had to work. For the owners of Hajdi and Griska it was the first participation. I have not seen Erkan for 3 years, I was very happy that the owner had brought him to show him to me. Some dogs entered in the cages for the first time, those who were the noisiest, were the young ones.
Around 10 am, while the photographer had arrived, we went to my hamlet for the photo shoot.



| | |
| --- | --- |
| PHOTO SHOOTS | |
Our photographer, Vanessa Grossemy who already had the opportunity to photograph some of my dogs, has her requirements, so I had to find a place that would give her the opportunity to have the sky as background, to enable her to change the landscape, for instance if she would decide to publish a calendar, that the background would not be the same for all pictures. For me it was important that this place was in the vicinity, in order to go by foot, that at the same time it would be a little walk and that we would not lose too much time. Not far from my house I saw a meadow on which there were no cows. It belonged to the local farmer that I know well and the sight from this meadow was beautiful. You could see all around, only the grass was just a little too high.... My acquaintance, the farmer, allowed me to bring along a number of dogs. Unfortunately, Vanessa was in a hurry to leave for a tour in France and that makes that in the three hours that she could spend with us, she could not photograph all the dogs, only those who arrived among the first.
Little line consisted of the following dogs: Bayka, Cakana called Anuska, Cicavesna, Duska, Gara, Hajdi, Decko, Dragas, Duci, Dusko, Falco, Furko, Garo, Goranac called Zoran, Griska, Higor and Hooker. Unfortunately the owners of Duci and Falco have lost patience and that's why Vanessa did not have the opportunity to photograph them. It is true that a photo shoot with Vanessa takes a long time because she looks for the best result, the head should be turned according to the position of the sun, the leash should not be visible, or it has to be straightened, so that it does not lay on the fur of the dog, so that it can easily be erased in Photoshop, if she photographs two dogs together they must be on the same line, if not, one will be blur ...
The last dog Vanessa made a picture of was on my property and it was Hodessa. As Hodessa was "on heat" we did not want to excite every male dog. The other dogs were taken pictures of by Huguette and I, only Duci left without one single picture, which I enormously regret.
I also have to mention that Goranac and Hode have only been photographed by Vanessa, so this time there will be no pictures of them, we'll have to wait for the pictures taken by Vanessa.
I will get the pictures taken by Vanessa within one month and they will be put on my site and probably also on the Net in the form of an album. br
| | |
| --- | --- |
| LUNCH | |
After 1 am, we gathered around a few starters, prepared by Nicole and me. Salads "urnebes", "Russian" "sopska", "ajvar", "prebranac", taboulet ... have been very successful. Everyone wanted the recipe of "urnebes" salad. Then there was a huge amount of spaghetti, thinking back we have concluded that we could have done without. The last large bowl of spaghetti has been divided in portions for our dogs and judging by my dogs, they appreciated the change of menu!
At the end my guests have tasted the desserts "suva pita" and a kind of cream like Tiramisu. And again there were requests for the recipe of "suva pita" and Vladimir was suspicious, for real or to tease me, hat the pita came from a Turkish shop.
At the table at which I briefly sat, the atmosphere was very cheerful, and how it would not be, because there were Jimmy and Mr. Henry Kusza! Always cheerful and ready to joke! At the entrance of the garage, where the tables with the food and the drinks were, Goranac called "Zoran" was laying behind his owners. He was quietly laying, not very interested, despite a lot of people were passing a few centimetres from his nose and stepping over him. There were still some favourites under the table, I spotted Eros, Grivna, Griska ... At the next table two long time friends, Andre and Patrick were sitting, chatting around a glass of brown Belgian beer. My friend Sinisa amused with loud voice Olga and her family. Olga knows some Serbian words she learned from her father or from staying as a young girl at the Adriatic coast. Huguette and her sister Annette were the supervisors of the organization. Huguette has even provided some souvenirs !

A big thank you, to everybody who has helped me to make his day successful and to remain a pleasant memory. I'll try to forget nobody. For the transport of the tables and chairs, assembling and disassembling the cages I have to thank Joseph, the owner of Ecka and Zirka and my friend from Belgrade, Vladimir who owns the Sarplaninac Dingo. Then the Montenegrin Valjko who has Sarplaninci in the town of Berane and my friend for many years, Sinisa from the town of Drnis, who even knew my dogs from the first generations, perhaps even Zoe, in any case Arap and Lola. He took them from time to time for a walk and this year he even kept my two "girls" while I was in Belgrade. Another major victim was Nicole, who once had the dog Yskra. Not only she made some starters, she lent me a large quantity of china, she helped me to put all the tables and chairs, but she has also done the dishes after the meal, which allowed me to stay with my guests. Another dear person who helped everywhere was my Christel, the owner of Dingo and wife of Vladimir. Not only was she welcoming the guests by using her knowledge of many languages, but she also took care of the presentation of the starters and she also started to do the dishes, together with Nicole.
Huguette was the "leader" for many things around the organization, she brought me cutlery and tents, with Annette she set the tables, she entertained the guests, she was the photographer, she provided the dogs with water ... and, once more, she made me cry when she gave me these beautiful pages of the "Golden Book".
Here is what she wrote to me.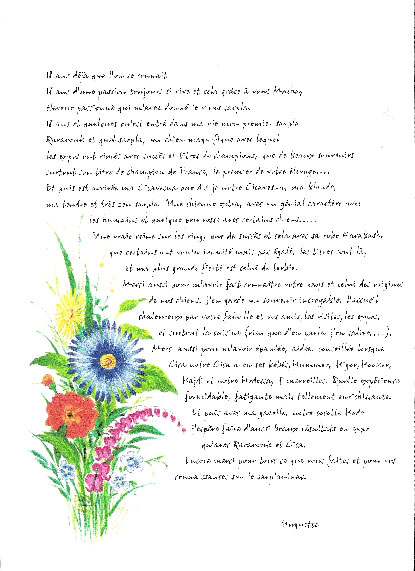 "18 years already that we know each other. 18 years of a still so strong passion and this thanks to you Macha, passionate breeder who gave me the "Sarpla" virus.
A bit over 18 years came into my life my first Sarpla Qaravouk and what for a Sarpla, beautiful dog where the exhibitions have rhymed with success and championships, only beautiful memories especially his title of champion of France, the first one from your kennel...
And then came my Cicavesna, what am I saying, our Cicavesna, my "blondy", my loving and very "zen" Sarpla. An excellent dog, with a great character towards humans and somewhat nasty with certain dogs....
A true queen in the rings, only success and that with her Karabach fur, which some have tried to imitate but have not matched. Her titles are there and my greatest pride is the one from Serbia.
Thanks also for introducing me to your country, where our dogs originate from. I keep incredible memories of it, the warm welcome by your family and friends, the visits, the exhibitions and most of all the "cuisine" (only talking about it makes my mouth water….).
Also thank you for supporting, helping and advising me when Cica, our Cica had her babies, Hummer, Higor, Hooker, Hajdi and our Hodessa, 5 wonders! What a great experience, tiring but so much rewarding. And then with my gazelle, our "chicky" Hodessa I hope to make such fine results at the exhibitions as with Qaravouk and Cica.
Again thank you for everything you do and for your knowledge on the Sarplaninac.

Huguette "
Yolande was also there to lend a hand where needed. We also had two beautiful young ladies, my tenants who served the drinks. Around 4 pm people started to leave and I must say that all the guests, without exception, told me that everything was great, everything had been done in a homely way, in a relaxed atmosphere and they have spent a very pleasant day.
I received a few emails with the following contents:


Good evening Macha,

What a beautiful day!
It was really fantastic; all the dogs are great and their owners too. An excellent ambiance, meeting, exchanging thoughts with other "owners," our "love" for the Sarplaninci is even more reinforced! What a dog! What an extraordinary dog!
Impossible not to talk about the excellent quality of the starters and the desserts, prepared with love, discovery of specialties from your country, especially the famous walnut cake, how wonderful! (Could we get the recipe?). The quality of the welcoming, the sun…
An unforgettable day, we really had a good time and it is with a great impatience that we await the next meeting!
Thank you, thank you again for making us discover the Sarplaninac and for giving us this wonderful day with the "doggies".



Kisses

André, Ginou and Hajdi
---
Good evening Marija,
Thank you for the fantastic pictures!


Sincerely,
Ziggy
---
Macha,
"A big thank you for your pictures: they are really beautiful!
Splendid!
Thanks!

Stéphanis and Dany
---
Good evening Macha,
« A big thank you!
It was a very beautiful day, very friendly by doing it at your home. The Sarpla owners are nice people and it's funny to realize that we are not the only ones who find it difficult to have our dog walking properly! We enjoyed ourselves. See you at the latest at the exhibition in Liege? We have registered Higor yesterday."


Kisses and have a nice week
Frédérique and Pol
---
Good evening Macha,
Thank you for these beautiful pictures, and especially grateful for this beautiful day, as much as you I hope.
How lucky we were with the weather and what a great success for this reunion, every time it is a pleasure to be together again with our Sarpla, and as usual I'm proud of my little girl, quiet, nice, zen, but ... greedy because once I let her walking free she immediately disappeared into your kitchen!
Another big thank you for this beautiful day



Big Kisses
Yolande"